It's easy to get carried away by the endless stream of new technologies and micro-tactics suggesting how we should be on social media.
Often, we forget about the core themes that provide the foundation of a successful digital strategy.  We ignore the large concepts that help us determine how to engage an audience.
It's time for a refresher.  Here are 10 things sports rights holders should currently be trying to do on social media.
1.INFORM
Content should fulfil one, or both, of two purposes: inform and entertain.  Humans like to share knowledge with others – it makes them look good.  If your brand can provide shareable information in an engaging way, your audience will use it to promote their own personal brand.  This how you tap into your fans' wider networks.
We live in a visual age – use graphics to illustrate your information. This could include competition data, athlete statistics and score lines
Check out Team Infographics for great examples of information shared creatively
Use video and live streams – social media platforms such as YouTube and Facebook have become the best places to broadcast live press conferences and interviews
2. ENTERTAIN
Stir emotion within your audience.  Before each piece of content faces the public, it should first be scrutinised with the question 'how will this make the audience feel?'  If you don't think it will trigger the desired emotions that get your audience engaged and sharing, start again.
Use athletes to bring to life fun concepts
Use the key moments from your sports events and share them in new formats
Catch the eye with GIFs, stickers and carefully selected emojis
Check out Minnesota Vikings' digital output as a great example of entertaining content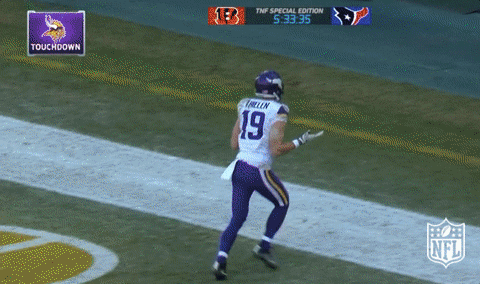 3. INVITE
Don't expect your audience to find you.  The digital space is a competitive space, so make the effort to reach out to your audience with your offerings and encourage them to be an active member of your community.
Be interactive. Use polls, surveys and votes to gather opinions and share them with others
Invite people to watch your broadcasts. Be sure to market your big events well in advance.
4. LISTEN
Top-line metrics like reach and engagement only tell half the story.  For a comprehensive evaluation of your content, you need to take into account sentiment.
What's being said about your brand, sports events and athletes?  Who is saying it and where do they live?  Accessing that next level of detail will optimise your future digital output.
Listen to your fans and tailor your content to the mood
Use social listening tools to get that granular detail. Software like Ampsy allows real-time geo-targeting to track sentiment and influence.  Make sure you hire people who know how to use these technologies!
5. SHARE
There are few things that generate goodwill towards a brand than sharing their users' content.  Sports are spoilt for choice with the amount of user-generated content (UGC) available.  Learn how to track UGC relevant to your brand, or inspire them with a fan-focused campaign.
Repost fan posts and quote fans
Encourage fans to share images from around the world to show your global reach
Collect video content from a fan perspective
Always be positive to and about your fans
6. CELEBRATE
Find a reason.  Any reason.  Everyone loves to celebrate something.  Celebrating is an easy way to create positive sentiment around your brand, particularly on topics that are trending.
Create relevant content for whatever you are celebrating
Take advantage of public holidays around the world to penetrate different markets
Wish athletes a Happy Birthday!
7.  REMIND
There is so much information available in today's digital world that people are grateful to be reminded of certain events and moments.  Reminding your audience can be informative and entertaining, even creating a sense of nostalgia with popular moments from the past.
Share milestones of legendary athletes and events
Capitalise on trends: #ThrowbackThursday
8.  INSPIRE
Sports have the luxury of being a primary source of inspiration for humans.  Being story-driven creatures, we love to see and hear what others have done well and try to apply it to our own lives.  Tell your stories.
Create emotive videos. Check out this video as an example of an individual in sports who inspired millions with his story. We can find story lines like this in every sport.
9.  MONETISE
Sport is a business too.  Use all the assets you have at your disposal to successfully monetise your offerings.  Younger generations want brands who have a personality and are aware of current social issues.  Campaigns for which the end goal is taking money from your fans should be subtle and carefully targeted.
Use social media advertising to promote ticket sales, merchandise and popular content
Leverage athletes to communicate offerings
Get sponsors involved in your promotions and celebrations
10.  THANK
Remember your manners.  Thank and reward your audience for being part of your community.  It's a sure way to build trust in your brand and encourage further engagement.
Place extra tickets to your sports events on sale only via social media
Give away autographed merchandise and experiences
Engage with your audience via comments and live broadcasts
Keep these 10 concepts front of mind when deciding on your digital strategy and they will ensure you build and maintain a loyal, engaged audience on social.