The first virtual NFL Draft took place last week and its huge success is testament to the NFL's long-term investment in this non-competition event.
The first virtual NFL Draft took place last week and its huge success is testament to the NFL's long-term investment in this non-competition event.
The Draft is the way NFL teams – over 3 days of 7 rounds – recruit college players (draft picks) into the professional game. COVID-19 and self-isolation protocol had meant canceling the 2020 live event in Las Vegas, so the decision was taken to broadcast the event online instead.
How was it organised?
• 600 camera feeds put in place.
• Microsoft Teams used as communication platform.
• Amazon Web Services hosted and managed video feed.
• Verizon provided phone and connectivity in remote locations.
How did it go?
Despite worries about potential technical difficulties, the virtual Draft went seamlessly and had all the elements of the usual event format.
NFL teams made decisions from their virtual war rooms; Roger Goodell (NFL Commissioner) assumed his role as master of ceremony and announced draft picks from his own home; there were emotional reactions and interviews from draft picks (and their families) as they received the news in their homes; there was punditry from analysts, and even musical performances. Everything was captured live.
The only thing missing was the signature embrace between draft picks and Rodger Goodell on the podium.
The NFL had extensive coverage of the Draft on social media channels. Content included:
Video of draft pick announcements
Reactions of family and friends
Creative involving a draft pick in their new team's uniform
In addition to the virtual Draft, the NFL held a 'draft-a-thon' – a virtual fundraiser for coronavirus relief in the United States. Hosted by Rich Wisen and Deion Sanders, who were joined by celebrities from the worlds of entertainment and sport, over $100million was raised.
How successful was it?
Very! With over 55 million viewers overall across all channels, the first night drew a record 15.6 million viewers (37% up on last year and beating the previous record of 12.4 million in 2014).
Four takeaways from the NFL Virtual Draft
1. Create annual out-of-competition events to generate out-of-season media and commercial interest.
2. Push the boundaries of technology. Think big when planning content as there's nearly always a technology solution. The NFL was able to connect online with 32 teams and hundreds of draft picks over just 3 days.
3. The omnichannel approach to social media is as important as ever. No one could physically attend the Draft so it was vital to push content on all social channels to reach as many fans as possible. Different platforms have different audiences and it's important to reach them all.
4. Get athletes interacting on live video. The draft-a-thon fundraiser was popular as fans got to see athletes sharing funny moments and stories via video call. There might be no live sport, but fans still want to see their favourite players.
---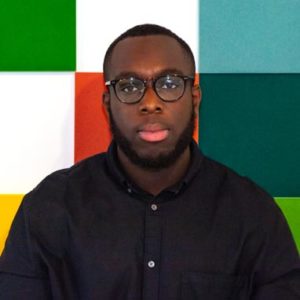 A Pillar of The Community.
My most memorable sporting moment is ...
Watching Thierry Henry score the winner in the FA Cup against Leeds on his return to Arsenal… I shed a tear.
I'm happiest when ...
Listening to music.
The sports person that best represents me is ..
Draymond Green.
The three things at the top of my bucket list are ...
1. Travel the world
2. Meet Jay Z
3. Write a book
A quote I try to live my life by is ...
"At least you didn't die" – Self.
All author posts