The top social media platforms are put together in a boxing ring… is there just one that sports rights holders are backing to emerge as champion? 
Facebook appeared to throw a punch at TikTok last month. The announcement of its new Instagram 'Reels' feature will enable users to create short videos which can be shared and remixed – just like TikTok.
With TikTok and Instagram upping (and perhaps even replicating) their game, on which platform should sports focus their efforts?
We asked four International Olympic Sports Federations (IFs) – ISU, FIFA, UCI, FEI – which platform they would prioritise. The question was posed in October to a panel of IF digital and social media leaders at the REDTORCH #SportOnSocial event in Lausanne, Switzerland.
When the same question was asked of a previous #SportOnSocial panel in March 2019, the answer was unanimous: Instagram. Since then, however, a new kid on the block has been proving increasingly popular.
According to a report published by Sensor Tower, TikTok has crossed the 1.5 billion download mark and is the 3rd most downloaded app of 2019 (614 million), surpassed only by WhatsApp (707.4 million) and Messenger (636.2 million).
ROUND 1: ISU
ISU are looking into launching on TikTok, recognising that it's fun, quick and easy, has many features to experiment with, and appeals to a young audience.
'It's not something we are able to fully understand and grasp ourselves yet. Some of the things may be silly for us, and it works,' says Andrés Durán, ISU Digital Communications Coordinator.
Its approach to creating viral content on TikTok may, therefore, include working with a group of young reporters to ensure authentic and effective production.
But will it last? Although TikTok is working well, Andrés questions its longevity.
'I would still bet more on Instagram because of the backing it has, and because it can develop features that other platforms have at any given time, like it did with Snapchat.'
VERDICT: Uncertainty over TikTok may make Instagram the safer bet.
ROUND 2: FIFA
If it was up to Luis Vicente, former FIFA Chief Digital Transformation and Innovation Officer, each sport would have its own platforms. As it stands, platforms like Instagram and TikTok have more knowledge about a rights holder's audience than the rights holder itself.
Luis feels, 'We're losing the fight for our own audience.'
Since the majority of IFs are not in a position to build their own platforms, his advice is to think beyond follower numbers and engagement, and consider which platform has the most transactional potential.
'The future needs to be transactional… where you can buy a ticket for an event, a piece of merchandise, or even register for an e-gaming competition all in one place… I think Instagram and Facebook are moving in the right direction. Twitter will not survive independently for much longer, and let's see what Amazon, Alibaba and the other big ones will do.'
VERDICT: Platforms must become transactional: Instagram and Facebook are moving in the right direction.
ROUND 3: UCI
Simply choosing one social media platform is not an option to which UCI subscribes. Adrien De Cheveigné, UCI Digital and Audience Growth Manager, believes that with so many opportunities in multiple markets, any decisions are difficult to make especially if they risk alienating a key audience.
'For your younger audience, of course, you have to get into TikTok. For your more mature audience, our predominant one so far, especially in road cycling, you have to be on Facebook.'
Adrien agrees with Luis about the growing importance of transactional social media: it's where value for money is right now.
'The Asian markets are a bit ahead of us in terms of transactional platforms…'
While almost impossible to choose a No 1 on an organisational level, Adrien does have a personal preference. 'My favourite will remain Instagram for the time being.'
VERDICT: Choose a platform that works for your key audience – possibly TikTok for a younger audience and Facebook for an older one.
ROUND 4: FEI
Emma Shadbolt, REDTORCH Senior Social Media Manager and FEI Account Manager, agrees it's too hard to single out one platform. In the end it comes down to your specific goals and the needs of your target audiences.
'TikTok is great for user-generated content and helps with the content production issue… but it has a Vine-like feel in that it got very hot, very quickly. It will be interesting to see how it keeps up with its engagement and following…  For me, Instagram is still No 1. You get direct interaction with your fans: they are most likely to comment, tell you what they want, what they do and don't like.'
VERDICT: Instagram still hits the mark for real engagement with fans.
FINAL VERDICT
Understandably, all four sports found it a challenge to prioritise one social media platform over another.
While they recognised the importance of TikTok for engaging young audiences – 66% of users are below the age of 30 – uncertainty over how long its popularity might last means they aren't putting all their eggs in TikTok's basket at the moment.
For now, Instagram remains a favoured platform due to its flexibility to adapt to trends and the opportunity it offers for meaningful engagement. However, when choosing where to focus efforts in the future, a platform's transactional potential could be key to the future success of sports organisations.
#SPORTONSOCIAL SURVEY
In October 2019, IF digital and social media leaders came together to discuss the 2019 #SportOnSocial Survey Report – results and analysis from the world's most comprehensive survey benchmarking IF social media practice.
DID YOU KNOW?
Alongside IGTV, TikTok is the top platform IFs plan to launch on in the next 12 months.
CLICK HERE for more insights
---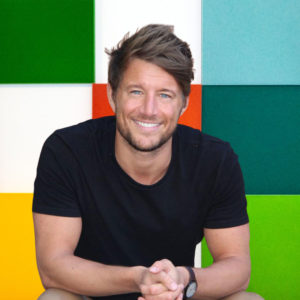 I'm a sport-obsessed film lover with a passion for evidence-based marketing. I'm proud to own an agency that's become one of the most trusted in world sport.
My most memorable sporting moment is … 
Spectating: Liverpool beating AC Milan in 2005 to win the UEFA Champions League.
I am happiest when … 
With family.
The sports person that best represents me is … 
Frederik Fetterlein (Danish Tennis player... worth a google).
The three things at the top of my bucket list are …
1. Complete an Ironman for the charity MIND
2. Learn a (new) language
3. Work with the NFL
A quote I try to live my life by is … 
"Life is as good as the memories you make."
All author posts