As a lover of sport my entire life, I often wonder what it is that draws people to engaging in sport (whether as spectator or participant). My passion stems from the values and principles that sport stands for – the teamwork, the determination and the inclusive culture.
The differences between amateur and professional sport are staggering. People enjoy amateur sport for personal benefit, relaxation, meeting new people, etc. Professional sport, however, maintains its success through sometimes alarming amounts of money. In our digital age, it is becoming clear that there is an increasing shift from professional sport into the realms of pure entertainment.
Subconsciously, we have created a society for the sporting 'spectacle'.
This week, Super Bowl LIII captured global attention once again. It is a prime example of how social media has become a mechanism and a platform to express instantaneous reaction to events: of 3.1 million tweets sent, 1.8 million were organic and 1.3 million were RTs.

What now encompasses the true meaning of the Super Bowl? Of the top five tweets, none were actually related to the game itself. Rather, they were about aspects of production, the half-time show and cultural issues. Commercial spots were going for figures upwards of $5 million. The half-time show simultaneously provided entertainment and controversy. It's clear that the Super Bowl is not just about a game of American football. It serves other purposes.
Below are just a couple of examples of the most talked about moments of Super Bowl LIII.
To Infinity and… #ToyStory4 pic.twitter.com/dt06TjHwQY

— Toy Story 4 (@toystory) February 4, 2019
This halftime show is worse than when my parents got divorced.

— Ḿå℟₭ (@markhoppus) February 4, 2019
This idea of 'spectacle' appears to have transcended into a multitude of professional sports, but is it drawing away from the values originally promoted by sport?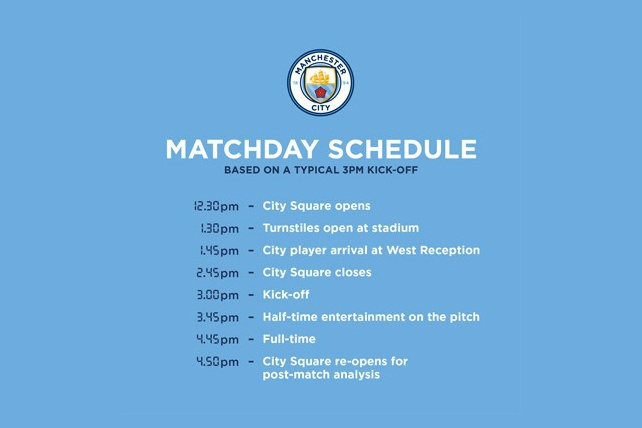 In 2008, staff at Manchester City received an internal memo from CEO Garry Cook – We're not a football club, we're actually a sports entertainment media company– after being taken over by the Abu Dhabi United Group. Matchday experience at the Etihad has since been transformed – going way beyond the 90 minutes on the field.
The creation of 'fan zones', live entertainment and interactive competitions pre and post-match takes away from the explicitly sport-based nature of match days. Manchester City's matchday schedule is symbolic of this.
In this instance, I love the idea of fan inclusion and the atmosphere it creates within the stadium. I advocate for a world whereby sport is an integral part of each individual's life.
In recent decades, fans have become immersed in a world that stems far deeper than simply the practice of sport. The Olympics Opening Ceremony is an entertainment hub. Mayweather – McGregor made history – but not necessarily for the reasons their sport would have desired. Match-day entertainment is important, especially when engaging younger generations in both partaking and observing sport. What troubles me, though – is when money, advertising and cultural messaging supersedes the sport itself.
Sport should transcend boundaries. But at what point do we draw the line?