CANDICE STASYNEC LOOKS BACK ON A 39-YEAR CAREER WITH EDMONTON EVENTS
Behind every great sports event there is a great team.  A team working tirelessly off the field to ensure the success of teams working on it.
Candice Stasynec has been part of one such team.
For 39 years, Candice has helped grow the City of Edmonton's vibrant sports scene, which now rivals those of the world's biggest host cities.  As she retires from Edmonton Events, the former Executive Director is now looking to the future, eager to find opportunities with national and international rights holders and cities that complement her view of what a great sports event should be.
A TRADITIONAL HISTORY
For a medium-sized city, Edmonton has a rich history of hosting large sports events.  This, Candice says, is down to the city's passion for events, a lot of research into successful host cities and Edmonton's sports audience, and careful strategic planning.
To kick things off, Candice's appointment as manager of Commonwealth Stadium in 1992 and subsequent relationship with the Canadian Soccer Association leadership resulted in a succession of international friendlies, one with the soon-to-be World Cup winners Brazil.
"I still remember the feeling of that event," she says.  "People still talk about it, the electricity it created."  The friendly with Brazil attracted 51,000 fans, a match that even today ranks number 8 in the Canadian Soccer Association's 'top 10 moments'.
Candice helped land and deliver a number of other international events during her time at Edmonton Events, including the 2005 World Masters Games and the 2015 FIFA Women's World Cup.  But the events closest to Candice's heart are those that build legacies and strengthen Edmonton's community.
"The City's broader goals entail a vibrant, healthy community," she says.  "We always asked 'what can this event do for our residents?'"
Edmonton's relationship with triathlon is the perfect example of a sport providing the right answer to this question.  The City hosted the ITU Triathlon World Championship in 2001 and "since then we've hosted an international triathlon event almost every year", Candice smiles, "and I take pride in knowing the Edmonton Triathlon Academy was born out of this legacy."
BROADENING HORIZONS
As well as having a firm grip on traditional sports, Candice and her team have not been afraid to test new waters when it comes to sports events.  Red Bull Crashed Ice and the FISE World Series are two events that have engaged a new audience in Edmonton.
"80,000 people attended Crashed Ice in March, 2015," Candice remembers.  "We immediately saw an appetite for extreme sports and saw the potential to create a legacy with the FISE World Series."  FISE will head back to Edmonton for the second time this summer, hoping to build the City's highly-engaged extreme sports audience.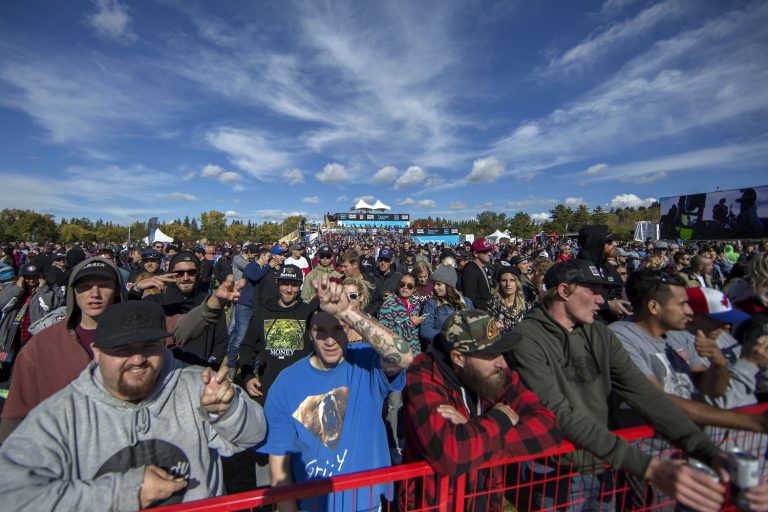 FISE World Edmonton September 16, 2016 at Hawrelak Park.
The ability to spot trends and engage changing audiences is a vital attribute for a host city.  "Rights holders are now more concerned with growing their sport through participation," Candice says, "so understanding your local audience is more important than ever for a host city."
WHAT NEXT?
"What events can do for a city is now globally recognised," says Candice.  Sport certainly sits at the top of the list of events that bring communities together and boost local economies, especially the ones, Candice believes, that are interested in forming long-term partnerships.
"I think we are starting to see a move away from awarding the one-off event," she says, "I like exploring the multi-year placement of events as a way to grow the sport and add sustained benefit for the community.  That's where the real value lies."
As Candice looks to help build new relationships between rights holders and host cities, the work Edmonton Events will continue to do with Lindsay Harrison and Janelle Janis at the helm will underline her own legacy.  Candice believes the city will be left in capable hands.  "Besides," she says, "39 years is a good run!"