We looked at this year's Tour de France to find out…
Brand exposure and spectacle go hand in hand in all modern sports.
The Tour de France leads the way. It backs extensive television coverage with quality digital, showing fans the behind-the-scenes excitement (and chaos!) of the world's toughest bike race.
Media-savvy teams follow the Tour's example. They invest heavily in online media and enjoy great returns.
But it's not all freewheeling: Chris Froome, this year's INEOS team leader, withdrew because of injury before he got his front wheel to the Brussels start line. This meant the Tour had no clear favourite. It also gave us an opportunity to analyse the impact of a stage win on a team's social media.
How much, for example, did a win boost Facebook audiences? Can sports rights holders grow their audiences even if the results don't go as planned?
This interactive graph shows the teams' peaks and troughs in Facebook follower growth during the 2019 Tour's 21 stages.
Winning teams gained 413 followers on average each day, compared to the daily average of 112.
In 10 of the 21 stages, the winning rider's team had the highest Facebook follower growth – that's less than 50%!
From this data we can determine that – while victory understandably plays a big part in how well a team or individual may perform on social – it clearly isn't the full picture.
Teams that won in the digital domain were the ones that provided great content throughout. Content that fans wanted to see. With proper planning and a healthy dose of creativity, growth is still possible whether a team is winning or not.
Here are some examples of the best-performing content teams shared on Facebook on the days one of their riders didn't pull on the yellow jersey.
1. Team INEOS – Spreading the love
Everyone loves love. Team INEOS posted footage of a long-time fan proposing to his partner on their team bus. Few things trump an emotional connection when it comes to content and INEOS cleverly took advantage of this.
2. Movistar Team – Family connection
A rare moment captured by the family of rider Andrey Amador emphasises the view that emotion is often at the heart of great content. Here, he pauses mid-race to greet family and friends. Showing the human side of your athletes gives fans something they can relate to.
3. Team Deceuninck–Quick-Step – It doesn't matter so long as you tried hard…
Some common-sense advice… If you have a superstar in your team, use them as much as possible. Team Deceuninck know they have one such star in Julian Alaphilippe and this image brilliantly anticipated the sentiment of fans. The Frenchman tried his hardest but came up short. Sometimes the journey is more important than the result.
4. Team INEOS – That Friday feeling
Some additional (and timely) behind-the-scenes content from Team INEOS. Although it's likely their large fan base drives content to perform better than most, here's an important point for sports rights holders to consider: investing in the short term to gain a share of your market's voice pays dividends in the long term.
The considered planning and substantial investment made by Team INEOS (previously Team Sky) has grown their following to the extent where anything they do will gain traction on social media.
5. Team Arkéa–Samsic – Mini documentary
Another good example of a team using one of their superstars, this short in-depth documentary of André Greipel by Team Arkéa–Samsic is a fantastic example of how to invest in your audience.
When producing video content around and at sports events, consider this: Facebook's algorithm favours videos that last more than 3 minutes. Slightly longer videos therefore rank higher on Facebook feeds.
If you're a team, an individual or a rights holder worried about how results impact your performance on social, you can still achieve audience growth without winning by capturing and sharing the moments fans want to see.
Yes – a victorious rider does make the process a whole lot easier, but if you invest in the right people – and with careful planning and exceptional creativity – you can still win on social without winning the race.
If you're interested in seeing how our team of experts can help you maximise your social media presence, our Strategy Director Chris would love to chat.
Photo credit: Eurosport
---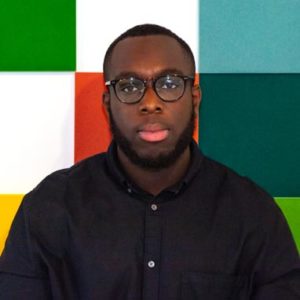 A Pillar of The Community.
My most memorable sporting moment is ...
Watching Thierry Henry score the winner in the FA Cup against Leeds on his return to Arsenal… I shed a tear.
I'm happiest when ...
Listening to music.
The sports person that best represents me is ..
Draymond Green.
The three things at the top of my bucket list are ...
1. Travel the world
2. Meet Jay Z
3. Write a book
A quote I try to live my life by is ...
"At least you didn't die" – Self.
All author posts