Almost two-fifths of digital consumers say they use social media to follow sports events.
In today's market – if there are TV rights left on the table – online streaming is the most efficient and effective way to ensure these events are made accessible.
Longevity in sport demands accessibility. Getting attention online now plays an important role in generating participation offline, especially for second-tier sports.
There are 2 major online streaming options:
building and maintaining an owned platform
using an established platform
For the majority of sports rights holders, Option 1 is resource-intensive and requires a deep level of strategic insight and risk assessment. It also requires its own dedicated blog post (coming soon…).
My focus is on Option 2, the more straightforward solution for sports on a smaller budget. For the next 3–5 years at least, if rights holders are to reach global markets with acceptable production quality, the streaming choice is Facebook or YouTube (due to the sheer scale of these top-performing platforms).
However, when we consider the 3 core requirements of modern-day sports rights holders – live-streaming functionality, monetisation, and community-building – the choice becomes harder.
To help, I've analysed how well Facebook and YouTube answer these important questions.
How well does each platform live stream events online?
How well does each platform fulfil a rights holder's goal of making money?
How well does each platform nurture a sport's fan base?
1. Live-streaming functionality
What functionality do you need?  
You can 'go live' on either Facebook or YouTube, but their functionality differs in some important areas.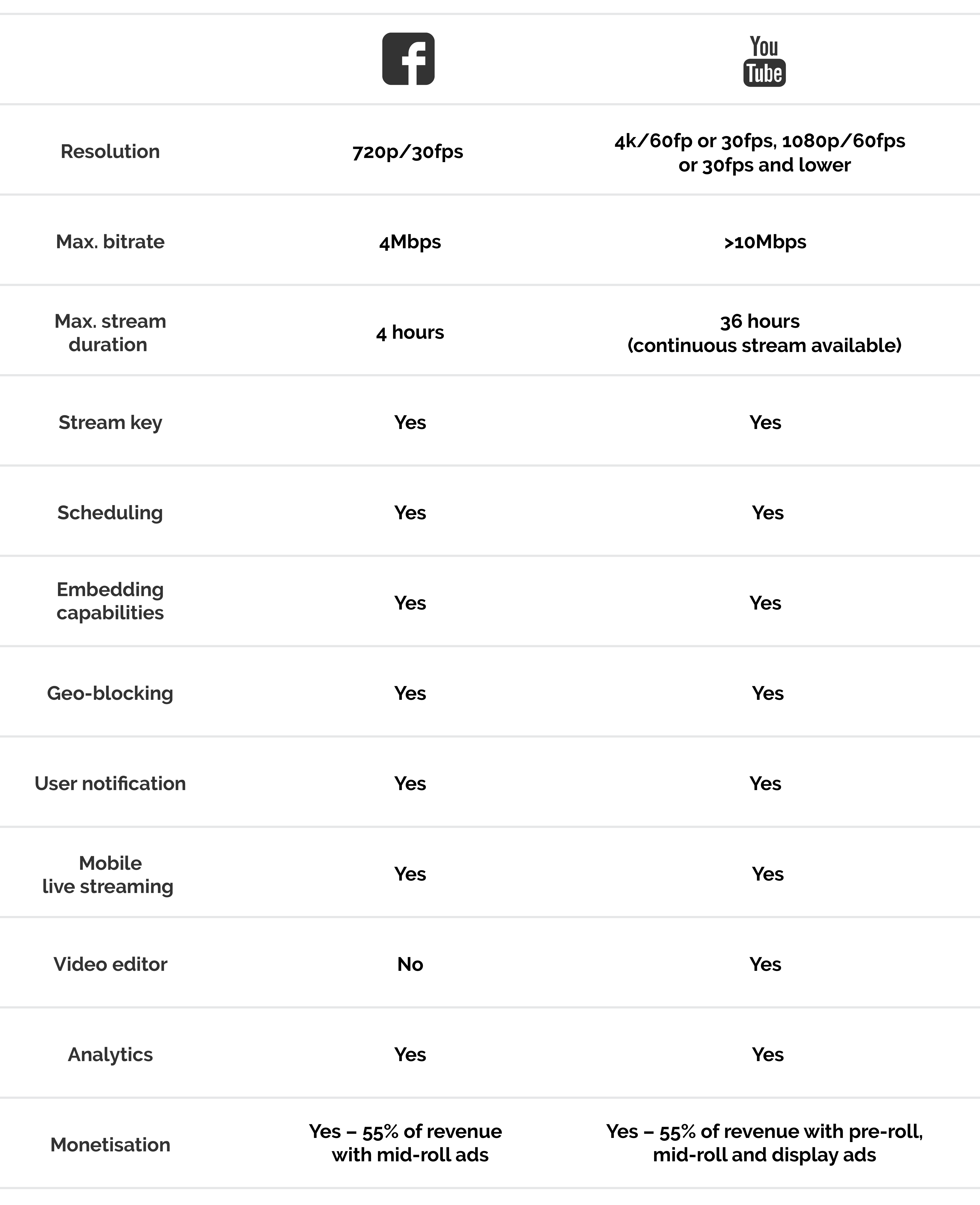 There appears to be a clear winner here as 3 crucial points of difference give YouTube the nod over Facebook.
Stream quality: The 4k potential and high bitrate of YouTube allows for a flawless live stream – important for keeping current fans happy and attracting new ones. While 4k is perhaps a touch ambitious for sports broadcasting from the depths of Eastern Europe or Asia, the ability to stream higher than Facebook's standard 720p is a back-pocket luxury worth having.
Stream duration: YouTube caters for sports such as cycling that have events running continuously for over 4 hours, or for those like speed skating that have events dotted throughout the day. Facebook's 4-hour max duration would force the interruption of these events, which would be harmful to engagement and overall viewership (not a sacrifice worth making).
Editing capabilities: In addition to superior streaming quality, YouTube's editing software allows for initial mistakes in broadcast to be deleted out, ready for replay. Perhaps not a deal-breaker, but a useful feature nonetheless.
2. Monetisation
If making money from your live streams is a serious ambition, both platforms allow for this.
Facebook makes up some ground on YouTube here, with an advertising ecosystem more intuitive and productive than Google Ads. The superior user-interface is preferable, too, if you're a small team with no dedicated paid media experts.
YouTube has always been clear that it wants users to make money from videos. Just enable the monetisation feature and you can pre-roll, mid-roll, display and overlay ads. Facebook has been hesitant to push this functionality so its capabilities aren't as extensive. In terms of easy stream monetisation, YouTube may provide the better functionality. Both platforms give you 55% of advertising revenue as standard.
Smart marketers will examine the entire advertising ecosystem. Facebook's multi-faceted platform presents more opportunities than YouTube; you can create financial value from Facebook live streams by integrating features like Groups and Events to generate ticket and merchandise sales. This is not so easy on YouTube's one-dimensional platform.
There are more interactive touch points across Facebook (and its network, which includes the massive reach of Instagram) that can be used to generate revenue and build comprehensive user journeys.

A case in point: Facebook's recent partnership with Major League Baseball (MLB) meant the platform produced and distributed games. Four MLB clubs then retargeted fans on Facebook and generated nearly $500,000 in incremental ticket sales. Peter Hutton, Facebook's Director of Global Live Sports Partnerships and Programming, stated that all teams saw a positive return on their ad spend, some even achieving a tenfold return on investment.
3. COMMUNITY-BUILDING
Building communities should be a central goal of all sports, regardless of size and status.
Facebook's ecosystem is geared towards this. The platform's numerous features allow for the nurturing of a loyal fan base through authentic interaction, a clear advantage over YouTube.
This doesn't necessarily mean sports should place their main product – their events – on the same platform on which they encourage discussion and interaction. It's important to understand what your audience already thinks of these platforms.
Since 2016, there has been a 24% decrease in people using social media to 'share their opinion'. With Facebook positioned as the platform to do just that, your audience may naturally find its way to platforms without an emphasis on messaging.
YouTube's positioning is unambiguous – it's a place for videos. We now watch more videos on YouTube than on Facebook and Netflix combined. 'YouTube' probably has a seat next to 'video' in the mind of the average fan – an important point to consider when choosing platforms for live streams. 
It's hard to resist the temptation to broadcast an event only where most of your current fan base is. Facebook provides most sports with a large community, but if we're to take an effective multi-channel approach, smaller sports can simultaneously manage their communities on Facebook and take advantage of YouTube's top-class streaming functionality.
SOME FINAL THOUGHTS
The move to online sports has enabled second-tier sports to reach a far wider audience.
Rights holders need to anticipate what will inevitably become the norm for sports consumption. Data confirms that younger demographics are devoting significantly longer periods of their day to watching online forms of TV. This behaviour is likely to be maintained with age.
The winning solution for sports is a combination of platforms.
While YouTube offers a closer match to the still dominant linear TV experience and is therefore a more suitable host for live streams, Facebook can help win the battle for the second screen, something that 90% of sports fans say they use when watching an event (and over half of whom list social media as their top activity).
For most sports, it shouldn't be a question of investing in only one of the platforms and neglecting the other. Facebook and YouTube can both form part of a coherent communications strategy. If done correctly, they should complement each other to build and maintain a loyal fan base.
But ultimately, the functionality, reach and clear-cut purpose of YouTube as a top-class video platform offers smaller sports the opportunity to market their core product most efficiently and most effectively.
Remember: The quality of the sport itself is paramount. Let your streaming strategy sit at the heart of your communications strategy and work outwards from there.
---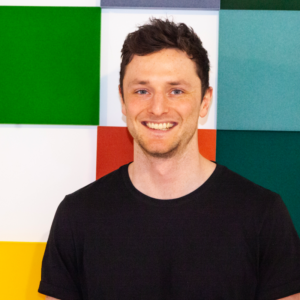 REDTORCH's best tea maker by some distance.
My most memorable sporting moment is …
Any away day in the Fife Amateur Football League.
I'm happiest when … 
Quiet pub. Corner table. Mates.
The sports person that best represents me is … 
All the best ones.
The three things at the top of my bucket list are …
1. Own a dog
2. Own 2 dogs
3. Walk dog(s)
A quote I try to live my life by is … 
"Doing more things faster is no substitute for doing the right things."
- Stephen Covey
All author posts