From REDTORCH CEO Jonny Murch to digital gurus in Olympic sport.

Join me in Lausanne!
REDTORCH #SportOnSocial event: an exclusive opportunity to discuss the findings of our 2019 #SportOnSocial survey.
When and where?
Tuesday 22 October 2019, 17:00-20:00pm, Lausanne
What's in it for you?
ASOIF Future of Sport highlights the competition faced by International Federations (IFs), and the need to innovate to stay relevant.
The REDTORCH survey provides the following fascinating revelations:
IF comparative benchmarks
how IFs use social media
IF digital strengths, challenges and areas of growth
how an acceleration of digital and social media performance enables IFs to build and increase direct relationships with consumers
Event benefits:  
learn what progressive IFs are doing across social media
understand latest social media trends
an opportunity to analyse and challenge current thinking
discover ways for change and improvement
For further information and to register for this year's event contact Carolyn: carolyn.johnson@redtorch.co
Your fundamental question answered: How can we engage and grow our audiences?
At the #SportOnSocial event, REDTORCH will show you how to improve your performance on social media – inspiring more people to watch, participate and compete.
Join us and enjoy:
Keynote from an exciting speaker (to be announced soon)
Q & A with panel of expert speakers, to include:
what are the main questions IFs ask about social media?
how many IFs analyse their audiences? What do they aim to achieve by doing so?
what platforms generate the biggest successes?

what platforms do IFs intend to launch on next? Why?
how many IFs use paid media? How much do they spend?
what social media priorities and challenges do IFs have as they look ahead to 2020?
For further information and to register for this year's #SportOnSocial event contact Carolyn: carolyn.johnson@redtorch.co
---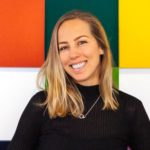 Redtorch Comeback Queen. Not allowed to take part in family games at Christmas because 'I take them too seriously…'
My most memorable sporting moment is…
When the Queen skydived into the London 2012 Opening Ceremony with 007.
I'm happiest when…
Skiing fast down a red on a bluebird day, preferably towards a log cabin that sells mulled wine.
The sports person that best represents me is…
Eddie the Eagle Edwards. I love to try new sports (tag rugby, softball, beach volleyball) but don't necessarily have the ability to match. Probably won't make it to an Olympics Games though.
The three things at the top of my bucket list are…
1. Complete the Three Peaks Challenge with my sister
2. Renovate a camper van and explore the UK's hidden gems
3. Visit Japan (happy to accompany anyone to Tokyo 2020 if there's a spare ticket going…)
A quote I try to live my life by is…
"When I let go of what I am, I become what I might be." – Lao Tzu
All author posts