We recently created the record-breaking #ForTheLoveOfEquestrian campaign for the FEI – after just 3 weeks of concerted effort.
The campaign is scheduled to run over the summer and will feature incredible stories of passion, commitment and pride. From elite athletes and their teams, to everyday riders, #ForTheLoveOfEquestrian embraces the dedication and courage that underpins equestrian sport and its surrounding lifestyle.
The results have blown us away. With minimal paid media, the launch video has reached 1,657,528 people, with 2,258 602 impressions, 846,778 video views and 87,552 overwhelmingly positive engagements.
We'd have been delighted with these results under any circumstance, but under lockdown they are one of our greatest achievements. How did we do it?
First, we set out our guiding principles:
• to work in collaboration with the FEI from concept to delivery
• to produce and deliver a concept that would resonate with the FEI audience
• to celebrate the love that fans and riders have for their sport
• to spark emotions and conversations
In implementing these principles, we employed teamwork, agility and passion.
To celebrate the love, community and unwavering commitment to equestrian sports. It's about meaningful connections, support and understanding. The campaign needed to hero these aspects of equestrian lifestyle.
Set to run over the summer, #ForTheLoveOfEquestrian will feature incredible stories of passion, commitment and pride from elite athletes and their teams, to everyday riders, embracing the dedication and courage that underpins equestrian sport and its surrounding way of life.
To produce an inspiring campaign that unites the equestrian community in a time of uncertainty and difficulty, filling a void in equestrian sport. We want to tell stories that fill the hearts of our fans and fuel lifelong passions for the world of equestrian.
The launch video needed to encompass this messaging, striking a chord with endemic and wider fans alike. We wanted to bring the forgotten details of equestrianism to life, reigniting memories of days gone by and giving hope of a brighter future.
As Michael Jordan once said, "Talent wins games, but teamwork and intelligence win championships." This advice certainly played out for us.
#ForTheLoveOfEquestrian was a real team effort between Redtorch and the FEI, made possible by our long-standing relationship, our mutual trust and understanding: testament to the importance of building strong bonds between client and agency.
A massive thank you for all the hard work on #ForTheLoveOfEquestrian.  It's been a brilliant team effort with an outstanding video to show for it at the end. I'm really happy with how it all came together.

Alice Permain, Sports Content Manager, Broadcast & Digital – FEI
The entire campaign was delivered remotely so agility was crucial. How did we keep agile?
•   We stuck to deadlines and responded when challenges arose.
•   We implemented careful time management from the start so no time was wasted.
•   No shortcuts were taken.
•   We agreed the creative idea and script up front.
Passion, hard work and dedication are essential when creating something of real value. Our team of experts shared a strong central idea – and had fun creating the campaign, too.
The end product is the tip of the iceberg, with the behind-the-scenes output laying coolly under the surface. It's this work that enables the visible campaign to stay afloat. A concrete base is the heart of an excellent campaign.
An idea is no good if no one sees it: we had to make sure people saw the campaign!
Kaley Cuoco's (8 Simple Rules, The Big Bang Theory) heartfelt narration was provided for free and was crucial in providing a brilliant structure to share our message and inspire conversation on global platforms. We were helped by Kaley's investment in the idea – she's a huge equestrian fan! – her availability, and her ability to record a brilliant voiceover within a week.
If you're looking to launch a campaign fast it helps to have a professional actor narrate – the key is to find the actor for whom getting involved makes sense for them.
I love how many of you loved this video! I cried when I was in my car recording it!

Kaley Cuoco, actress and producer
This is just the beginning. #ForTheLoveOfEquestrian will continue to build and spark community conversation in the coming weeks.
We have relished the challenged and are already looking forward to pushing the boundaries in our next campaign… maybe with you?
Check out more of our work here.
Update 28 October 2020: We're delighted to announce that #ForTheLoveOfEquestrian is a finalist for The Drum Social Media Awards 2020.
---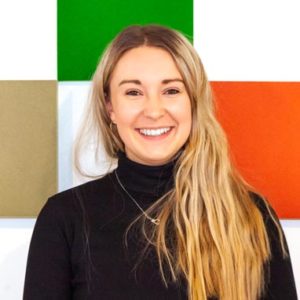 Eventing-obsessed, fan of all things travel and cooking related.
My most memorable sporting moment is…
My most memorable sporting moment is … 
Pippa Funnell winning Burghley Horse Trials for the first time in 16 years
I am happiest when … 
Outside with friends, family, dogs and horses
The sports person that best represents me is … 
Piggy French
The three things at the top of my bucket list are …
1. Complete a triathlon
2. See the Northern Lights
3. Sail around the Galapagos Islands
A quote I try to live my life by is … 
"The harder you work for something, the greater you'll feel when you achieve it."
All author posts