From classics like Bend it Like Beckham to modern-day phenomena like The Last Dance, deciding on your favourite sports documentary or film certainly gets passions high!
While there was no clear winner, here are the favourites selected by our team.
Who:  Jonny Murch, CEO
What: Living with the Lions

Telling the story of the 1997 British and Irish Lions Tour to South Africa, this is probably the first rugby documentary to go behind the scenes in such detail. The characters in the squad were brilliant and could switch from high performance on the pitch to high jinks off it – you don't get the likes of Keith Wood, Neil Jenkins or John Bentley in any professional sport these days. How the team fought to deliver an unlikely series win, throwing their bodies on the line for each other, is a magnificent story of teamwork, sheer determination and unfettered celebration.
Where to watch: Amazon Prime
Who:   Emma Shadbolt, Senior Social Media Manager
What: Bend It Like Beckham

As a child, this film made me so determined. I learned that women were actually allowed to play football, but also realised the difference in opportunity between the men's and women's game. It fuelled a passion for equality in me. (And a love for Kiera Knightley).
Where to watch: YouTube
Who:   Ollie Davis, Head of Research and Insight
What: The Two Escobars
It's just such an incredibly tragic story. The 1994 World Cup should have provided Colombia with an escape from drugs and violence but instead the two collided – with grisly results.
Where to watch: ESPN
Who:   Alex Ross, Director
What: Friday Night Lights
Inspired by the true story of a high school football team in Texas, this series is incredibly powerful and has an amazing cast. Plus, the soundtrack is perfect. I might even have shed a tear or two watching certain episodes!
Where to watch: Amazon Prime
Who:   Chris Argyle-Robinson, Strategy Director 
What: Moneyball
One film that stands out is Moneyball, a fantastic baseball story about how players were selected because of their on-base percentage (OBP). It inspired my philosophy for informing strategy: take a large number of variables to create one simple, actionable number. This has been a driving force in my thinking at Redtorch, inspiring our #SportOnSocial rankings, RAG model, content indexing, and many other insights-related projects. I still find it amazing that one film could have been so inspirational in one area of our business.
Where to watch: Netflix
Who:   James Fazackerley, Senior Consultant 
What: The Edge
This did what all great documentaries should do – encourage a different perspective. The Edge explores test cricket, an increasingly forgotten and under-appreciated sport. It intelligently reveals the game's ruthless intensity as a microscope is placed unflinchingly over an England that rose to the top of the world rankings for the first time in its history.
Where to watch: Google Play
Who:   Jess Reus, Project Manager 
What: Last Chance U 
It's just an incredible concept: to give outrageously talented people, whose lives have been all about American Football, a second chance. The stakes are high. Do they slip through the system or manage to get to Division 1 or the NFL? Last Chance U also sheds light on the personal lives of these guys and what they've been through; how sport isn't just about competing but about providing them with the solid family structure many of them don't have. Great soundtrack, too!
Where to watch: Netflix
Who:   Amy Marshall, Social Media Editor 
What: Formula 1: Drive To Survive 
This documentary series goes behind the scenes of the 2018–19 F1 season and is my favourite because it breaks down the sport for new audiences. It gets beneath the skin of the glamour and reveals the truth behind the drama. Even if you're not a racing fan, this is compelling viewing.
Where to watch: Netflix
Who:   Kirby O'Donnell, Social Media Manager
What: Cheer
Nerve-racking, emotional, relatable, mind-blowing… Cheer is a total rollercoaster of emotions. Giving a raw insight into what it takes to be the best in the sport, this six-part series following the Navarro College Bulldogs Cheer Team from Texas, documents the highs and lows of their journey to the National Championships. It made me see cheerleading in a completely different light!
Where to watch: Netflix
Who:   Ginger Wang, Designer
What: Million Dollar Baby
I don't really understand why people love boxing. But this film helped me understand a side of it I hadn't considered before. It's not just about hurting people, it's a sport that teaches important life lessons, like how to cope with defeat both in and out of the ring.
Where to watch: YouTube
Who:   Jacqueline Darby, Project Manager 
What: Icarus
This documentary won an Academy Award for uncovering the truth about doping in cycling. The American filmmaker, Bryan Fogel, started exploring the option of drug-taking in an attempt to win an amateur race before accidentally uncovering an international scandal. A fascinating take on a hot topic in sport.
Where to watch: Netflix
Who:   Joritse Onuwaje, Digital Insight Analyst 
What: The Last Dance
I wasn't old enough to understand how much of a cultural icon Michael Jordan was. But watching this documentary, it's clear that he's unmatched in terms of his impact on music, fashion and sport. His mentality and will to win are also incredibly inspiring/terrifying.
Where to watch: Netflix
Who:   Matt Weiner, Creative Director 
What: Senna
Formula One leaves me cold, so my commitment to Senna is a testament to just how good this film is. Asif Kapadia is the master storyteller behind the similarly brilliant bio docs of Diego Maradona and Amy Winehouse. Through expert manipulation of your emotions, he opens you up to new worlds. In the end, this film is about anything but cars. It's about passion and incredible characters and rivalries. It's about what sport really is: a lens through which we discover who we are and what we stand for. Utter genius.
Where to watch: Google Play
So there you have it, our favourite sports documentaries or films of all time! The question is, what's yours?
If you'd like to find out how we can help maximise your social presence – or chat about your favourite sports film! – please get in touch: hello@redtorch.co.
---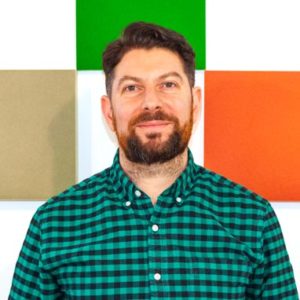 My most memorable sporting moment is … 
Scoring a goal at The Emirates. I think you can probably see how much it meant to me from my reaction.
I am happiest when … 
Having adventures in the countryside with my family, whether it's canoeing, wild swimming or camping.
The sports person that best represents me is … 
Former Arsenal midfielder Mathieu Flamini. Loads of effort and enthusiasm plus an awful lot of pointing.
The three things at the top of my bucket list are …
1. Whale spotting
2. Northern Lights
3. River vs Boca
A quote I try to live my life by is … 
"Hard work beats talent when talent doesn't work hard." – Tim Notke
All author posts