No live sport means no new content. Or does it? The impact of COVID-19 on the sports programme has led to rights holders finding innovative ways to cut through and engage fans.
Here are some of our favourites….
World Rugby – revival of historic games

 
With a rugby-shaped void in our lives, World Rugby has stepped in with a free-to-access service to help fans and players celebrate some unforgettable moments in rugby history.  
Mirroring a live game day – including expert commentary, live blogging, thoughts from those who were there, and player graphics – classic men's and women's Rugby World Cup matches are being live-streamed on Facebook and YouTube. The fun kicked off with France's 1991 quarter-final clash against England. 
At this challenging time for fans around the world, and with many people social distancing,
we are determined to ensure that there is plenty of excellent rugby to watch,
engage with and enjoy online.
Sir Bill Beaumont, Chair, World Rugby
Accessed World.Rugby/news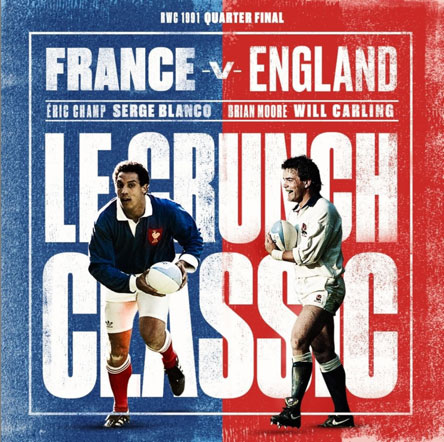 Is it proving successful?
100%. World Rugby is filling the void and driving fans to engage, comment on and re-visit spectacular games. It's no surprise it took No.1 Instagram spot in the 2020 #SportOnSocial League Table.
Formula 1 – F1 Esports Virtual Grand Prix Series
The Formula 1 team just won't be stopped! Every postponed real-time Grand Prix is to be replaced with a virtual one featuring a number of current F1 drivers. 
The season may have been put on hold, but this Series is one way to enable fans to participate in and enjoy the racing action. 
We are very pleased to be able to bring some light relief in the form of the F1 Esports Virtual GP, 

in these unpredictable times, as we hope to entertain fans missing the regular sporting action. 

Julian Tan, Head of Digital Business Initiatives and Esports, Formula 1
Accessed Formula1.com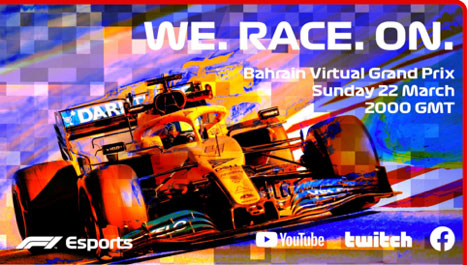 Is it proving successful?
Absolutely! On Facebook, the Bahrain Virtual Grand Prix on Sunday 22 March had 778k views, 1.8k shares and 4.9k comments.
NHL – #HockeyAtHome
Social media has been set alight with NHL's #HockeyAtHome as it engages a community of fans and athletes to share content: methods for passing the time, tips and tricks, and how to stay fit and healthy from home. 
All this is keeping the sport alive for fans worldwide, as is its popular Retro Recap – replays of some of the most entertaining games from past decades.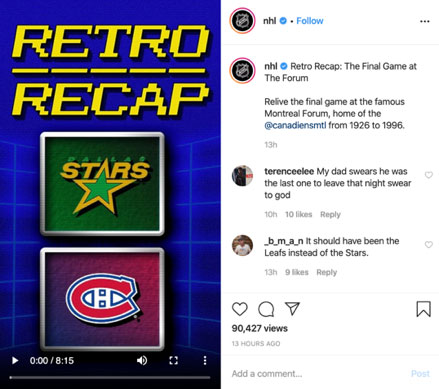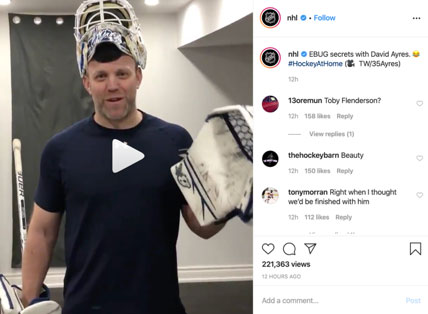 Is it proving successful?
A bit of creativity and spontaneity has proved hugely successful, with David Ayres light-hearted take on goalkeeping reaching 261.5k views, 43.9 likes and 253 comments on Instagram.
In the last 7 days, #HockeyAtHome has had 5k users and 7k mentions on Twitter. 

Leyton Orient – #UltimateQuaranTeam tournament
The suspension of elite football has left fans around the world yearning for their weekly footy fix. And in their time of need, up stepped Leyton Orient. Its solution? A FIFA 20 esports knockout tournament. 
After its initial invitation, Orient had to up the total number of participants as clubs from all over the globe expressed an interest in playing. Following a live draw on Twitter, representatives from each of the 128 teams (including footballers, fans and esports players) took to their consoles in the hope of sending their club sailing through to the next round. 
Fans from around the world are taking to Twitter to cheer on their beloved team in what could be the last piece of silverware up for grabs this season.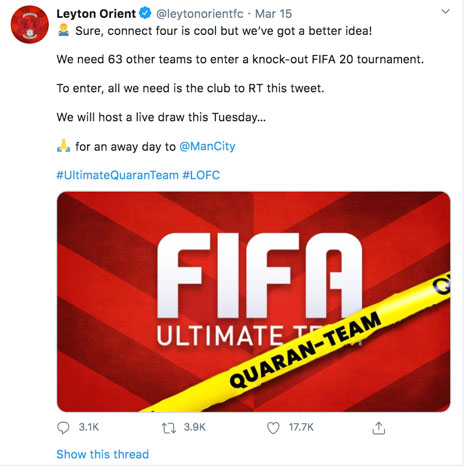 Is it proving successful?
In short – yes. Not only has the #UltimateQuaranTeam tournament engaged Leyton Orient fans, it's also increased their exposure across social and mainstream media. Since the launch of tournament, the club have seen its Twitter following increase by 22k. 
Off the back of the attention, the club has set up a JustGiving page to raise money for MIND, the World Health Organisation's (WHO) Covid-19 Solidarity Response Fund, and any football clubs hit hard by the health pandemic. Incredibly, over 50% of the £100k target has already been raised.
Such clever content has truly brought the footballing world together during a difficult time for all.
Newcastle United – recreating 'matchday'

 
It's well known that Geordies live and breathe football, so creating content to fill that football-shaped hole was always going to be difficult. But fans are flocking to Twitter as their beloved Black and White Army go in search of their first major trophy since 1969 in the form of the 'UltimateQuaranTeam' Cup!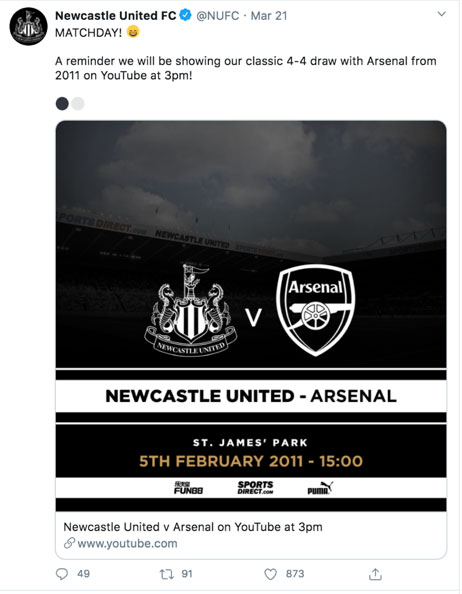 And the Mags have implemented some clever tactics of their own to keep the devoted Toon Army coming back for more by repurposing old classics on YouTube to give fans their Saturday afternoon football fix. From team news to kick-off countdowns to goals, fans will be able to relive the magic of some of the team's greatest ever matches. 
When the unforgettable 2011 4-4 draw with Arsenal was streamed on YouTube, Newcastle United took to Twitter to 'live-tweet' updates from the game in the hope of reigniting the matchday feel for their fans. 
Is it proving successful?
The numbers say it all! 175.1k views and 451 comments have been generated on YouTube since the initial video on 21 March.
The sporting world is pulling together – whether by re-living epic sporting moments or finding creative ways to stay active at home, there's certainly more to come.
---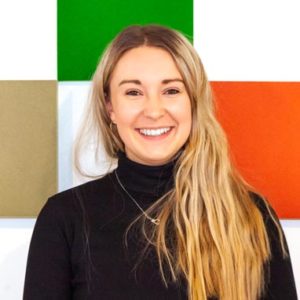 Eventing-obsessed, fan of all things travel and cooking related.
My most memorable sporting moment is…
My most memorable sporting moment is … 
Pippa Funnell winning Burghley Horse Trials for the first time in 16 years
I am happiest when … 
Outside with friends, family, dogs and horses
The sports person that best represents me is … 
Piggy French
The three things at the top of my bucket list are …
1. Complete a triathlon
2. See the Northern Lights
3. Sail around the Galapagos Islands
A quote I try to live my life by is … 
"The harder you work for something, the greater you'll feel when you achieve it."
All author posts