We caught up with Ace Ferdinand Asas, Volleyball World Digital Content Manager to find out how they nailed this year's #SportOnSocial League Table
Ace Ferdinand Asas, Digital Content Manager, Volleyball World
It's been an incredible year on social media for Volleyball World – top of the League Table overall and 1st on Instagram and Twitter. What is key to this success?
There are plenty of keys for sure! We have a clear road map, an agile content strategy, reliable tools that help us spread our content, a dedicated & unified team, and most of all the support of Volleyball fans from all corners of the world to help us build & continue growing Volleyball World.
You're very effective at working with players and other influencers. What tips would you give other IFs that are trying to do the same?
When you approach players and influencers, you have to be very clear what you need from them. Give them that liberty to get creative with you. Allow them to share their feedback on the ideas that you present to them, so it becomes a group project and they can fully say it's also their product. Another thing is, you need to educate them on the power of your brand. If you post something about them it gives them more exposure, more reach and more followers. They are benefiting from it as well.
The Volleyball World needed a Kiara in the midst of a really challenging year. First of all, she is an amazing and talented Volleyball dog and most people can agree that she plays better than them so I think she intrigued a lot of our audience. Overall her video brings happiness, it makes you smile as you watch it, it makes you appreciate your pets even more.
What role has technology played in your success on social media?
With no events, this season has stretched the creativity of our content team. So we made it our goal to leverage different tools for content creation to drive engagement and awareness. Our key criteria in selecting technologies is for it to be agile, scalable and analytics-driven to quickly pick top-performing content and repurpose our content which was critical to achieving our engagement goals.
You use a lot of archive content. How do you ensure it remains fresh and relevant?
With the pandemic and postponement of all our events, we had to get creative. So we leveraged our archive and created thematics. One great example is we showed matches where the other team was down and they made this amazing comeback to win the match. The theme was called 'IT'S ALL ABOUT THE COMEBACK'. During the time we published these videos, we wanted to remind our audience that we are going through this Covid crisis but for sure we will bounce back.
How do you plan to capitalise on the Tokyo Olympics?
The great thing is that the Volleyball World will hold major events for Volleyball and Beach Volleyball prior to Tokyo, so we are gathering our digital team and partners to ensure that we go out there to create a lot of cool and amazing content we can then use during the Games
In one word, describe the past 12 months …
UNSTOPPABLE – to add more context, regardless of what the situation was in the last 12 months, Volleyball never really stopped and we continued to bring the bestcontent out there for our audience and we are not stopping at all.
---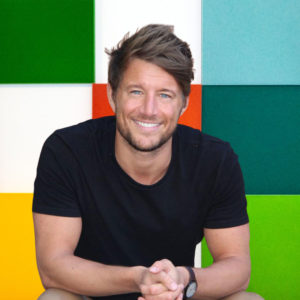 I'm a sport-obsessed film lover with a passion for evidence-based marketing. I'm proud to own an agency that's become one of the most trusted in world sport.
My most memorable sporting moment is … 
Spectating: Liverpool beating AC Milan in 2005 to win the UEFA Champions League.
I am happiest when … 
With family.
The sports person that best represents me is … 
Frederik Fetterlein (Danish Tennis player... worth a google).
The three things at the top of my bucket list are …
1. Complete an Ironman for the charity MIND
2. Learn a (new) language
3. Work with the NFL
A quote I try to live my life by is … 
"Life is as good as the memories you make."
All author posts