Our most recent blog explores how, as a smaller governing body, International Canoe Federation has responded to COVID.
How is the ICF dealing with the effect of COVID-19 and what is it prioritising?
Adam: Our events calendar has been most affected, so managing a new schedule and being flexible is our immediate priority. The safety of our athletes, fans, volunteers, and staff are paramount in our re-planning, so we have ensured that we stay in constant communication with all parties.
It's especially concerning for athletes in our Olympic disciplines, so helping them to adapt and prepare for the Tokyo Olympics next year has been a primary focus.
How has the current situation affected your digital strategy?
Adam: With 11 disciplines, live event coverage is at the centre of our digital strategy. Even without this year's world championships for our Olympic disciplines (sprint and slalom), we still had 12 events to stream live. This has left a big hole in our content plans.
We've had to look at other types of content to fill the void and continue to engage our fans, as it's important to remain active and have a presence, especially now that people are spending more time on social.
Fortunately, we had undertaken some research and social listening with Redtorch prior to this pandemic so we're able to use this opportunity to reflect and utilise this resource. The insights are helping us to target new audiences and consider a range of content to grow our following.
What has been the inspiration for your new content formats? How has your community responded?
Adam: It's impressive to see how creative people can be when faced with adversity. There's been a real sense of unity and will to help each other, so there's been lots of online workshops to share ideas. It also helps if you have people at work to bounce ideas off, as I fortunately do.
This has been a good time to look outside of sports for inspiration. My sister is a primary school head teacher, so I've seen first-hand how they operate. Children and parents are searching for things to do, so we started resources for home activities called 'Canoe Kids', which became one of our most popular Google searches. British Canoeing approached us about creating some colouring pages of athletes, which was a perfect opportunity to collaborate with one of our National Federations.
As the lockdown eased, we wanted to get our community paddling again. We noticed an increase in searches for 'is it safe for me to go kayaking?', so we knew people were eager. We created a virtual competition through our entry system, 'Active', and engaged our athletes to take part and share.
We also saw people doing fantastic initiatives for charity, like the 'TwoPointSixChallenge', in which one of our paracanoe athletes featured, and thought this was the perfect opportunity to raise money for a global charity. We partnered with Doctors Without Borders and produced our first ever virtual event – the 5k Paddle Challenge.
Generally the response to our initiatives has been positive. Canoe Kids ranked high on Google's discoverability, while the 5k Paddle Challenge has been the most-visited page on our website for the past two weeks.
What is your greatest challenge generally when trying to effectively communicate the ICF's message and its disciplines?
Adam: We usually have such a strong focus on elite competition, so it's hard to communicate without any events. As an outdoor sport lockdown has been especially challenging, but it's been great to see how creative people have continued to train at home and bring some humour to the situation.
Our tone and values in our messaging has certainly altered during this period and has proved to be successful, focusing on the Olympic values of hope and unity.
What do you think will be the single-most important factor for sports to leverage in order to grow over the next few years?
Adam: I think generating and obtaining user generated content will have the biggest impact on International Federations (IFs), particularly the smaller ones with limited staff and resources to generate enough content.
We've seen a massive increase in athletes' social media activity, with some showing incredible creativity. This should be leveraged by IFs. The key will be making the collaboration mutually beneficial, especially when the athlete's time will once again become more valuable.
When do you think you'll restart preparations for Tokyo?
Adam: We've had to protect ourselves financially, so we've had to postpone projects we had in place. We hope to restart them next year just as we had intended to, so everything is essentially postponed for a year.
Has COVID-19 opened any new opportunities for the ICF? And you personally?
Adam: With such a packed event calendar, I think the biggest opportunity the current situation has created is time to explore new ideas outside of our events. Normally we have very little time between events for seven months of the year, so that consumes most of our time and focus. It doesn't often allow us enough time to try different things and engage people with content outside our elite competitions.
The current pandemic has given me more time to do research, as well as learn and trial new software. I've certainly managed to fill the time I've gained.
Are there any learnings or advice you'd like to share from the past three months?
Adam: Don't be afraid to try new things. Now's a great time to experiment and get creative because people are sympathetic to the situation and understand that everyone's having to face new challenges.
The important thing is to assess what worked, what didn't work, and why. This way you can learn from it then move on quickly if it fails. If you can take away insights you can use in the future, it can be deemed a success.
---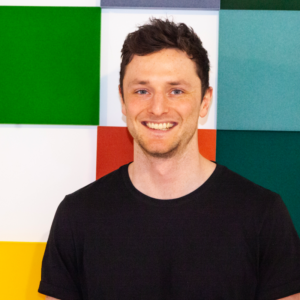 REDTORCH's best tea maker by some distance.
My most memorable sporting moment is …
Any away day in the Fife Amateur Football League.
I'm happiest when … 
Quiet pub. Corner table. Mates.
The sports person that best represents me is … 
All the best ones.
The three things at the top of my bucket list are …
1. Own a dog
2. Own 2 dogs
3. Walk dog(s)
A quote I try to live my life by is … 
"Doing more things faster is no substitute for doing the right things."
- Stephen Covey
All author posts