One of the many reasons we love working in sport is the power it has to conjure up a wide range of emotions. It thrills, it delights, it saddens, it angers, it surprises, it amazes us.
It provides the tastiest fodder for snackable, inspirational campaigns that the rest of us happily gobble right up!
With focus this month on the FIFA Women's World Cup, we are especially pleased to witness a huge investment by brands to bring women's sport into the spotlight.
So that's where we'll start with our Top 5 campaigns on social!
1. Nike – "Dream With Us"
Yes, Nike again. But until they stop producing ah-mazing creative, we will continue to swoon.
"Dream With Us" is narrated by award-winning actress Viola Davis (we could stop right there, but we won't), and features the United States women's national soccer team.
What we love about this video is that it also features amateur and professional athletes from other sports, including gymnastics, basketball and skateboard. Encouraging young women to take part in sport in general.
2. BBC Sport – Ms Banks' World Cup Rap
The BBC's effort to drive interest in women's sport focuses on the England women's national football team.
As part of the broadcaster's Change the Game season, the BBC brings in London rapper Ms Banks to create an empowering anthem that champions the next generation of female athletes.
It's creative, it's inspirational, and it signifies how women's football is breaking through to the mainstream.
3. Salomon – Any Path. Your Way.
Ok, Ok. This campaign was launched in April not June, but we're continuing our celebration of women and sport so just try and stop us!
Once again, Salomon NAILS the concept of user-generated content (USG) in a campaign that aims to break the stereotypical female image by encouraging women to share their photos of adventure on #SalomonWMN.
Warning… after watching this video you may have the urge to paraglide off the nearest mountain while screaming at the top of your lungs.
4. All England Lawn Tennis Club (AELTC) – The Story Continues
There's nothing like a bit of nostalgia to stir up emotion. And that's exactly what AELTC serves up in its latest campaign for this year's Wimbledon Championships.
Playing on its role as the oldest tennis tournament in the world, The Story Continues video (part of the #JoinTheStory campaign) takes us on a trip down memory lane, associating Wimbledon milestones with historic events.
Many female role models make an appearance, including Amelia Earhart, the first female aviator to fly solo across the Atlantic Ocean, Althea Gibson, the first black woman to win Wimbledon, and Billie Jean King, a leader of the fight for equality in tennis.
5. Danny MacAskill x adidas Outdoor – Welcome to the Family
Just like Danny MacAskill, we're going 'off track' for the last one.
It may come as no surprise, but we've a special place in our hearts for action sports.
When we heard adidas were making another move into action sports by signing world-famous mountain biker Danny MacAskill as brand ambassador, it was fist pumps all round.
See you next month for our round-up of July's best sports campaigns!
---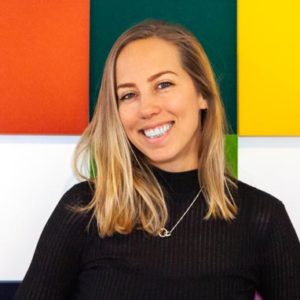 Redtorch Comeback Queen. Not allowed to take part in family games at Christmas because 'I take them too seriously…'
My most memorable sporting moment is…
When the Queen skydived into the London 2012 Opening Ceremony with 007.
I'm happiest when…
Skiing fast down a red on a bluebird day, preferably towards a log cabin that sells mulled wine.
The sports person that best represents me is…
Eddie the Eagle Edwards. I love to try new sports (tag rugby, softball, beach volleyball) but don't necessarily have the ability to match. Probably won't make it to an Olympics Games though.
The three things at the top of my bucket list are…
1. Complete the Three Peaks Challenge with my sister
2. Renovate a camper van and explore the UK's hidden gems
3. Visit Japan (happy to accompany anyone to Tokyo 2020 if there's a spare ticket going…)
A quote I try to live my life by is…
"When I let go of what I am, I become what I might be." – Lao Tzu
All author posts