We're delighted to announce that Redtorch has been shortlisted for Agency of the Year at the Sports Business Awards 2023.
The Agency of the Year category recognises the increasing role agencies play in sport, with the judges looking for creativity, insight, and clearly defined client outcomes.
2022 was a great year for Redtorch. We recorded our best-ever financials and worked for some incredible clients, such as UCI, World Athletics, WADA, and FEI. We delivered numerous campaigns which included:
launching a new brand and channel with World Athletics (Personal Best) to encourage people from diverse communities around the world to run more often to improve health and wellbeing. Across TikTok and Instagram we saw 6,000 followers vs 5,000 KPI, 1.3m engagements vs 1m KPI, and nearly 80k impressions vs 60k KPI
creating the Longines #MyDreamJump Challenge for FEI, a unique campaign that called on equestrian fans to design their dream jump – one of which was brought to life and used at the Longines FEI Jumping World Cup Final. The campaign saw 630 design entries, over 6.7k votes, and 10.5m impressions on the Longines brand
creating a campaign for WADA – #OnePlayTrueTeam – that invited everyone to join the world's biggest team, playing together for clean sport. It saw an 185% increase in reach compared to the previous year's campaign
I'm so pleased to be nominated for Agency of the Year. Our team is made up of absolute stars, and – while we know we're not the biggest name in the agency pen – we pride ourselves on providing the very best bespoke agency experience: unrivalled client service and super speedy reactivity: moving quickly from research to strategy to execution.

Finally, I couldn't be more grateful to our clients – without whom we wouldn't have an agency in the first place!
Alex Ross, Redtorch Co-founder
As well as 78% client retention and 7 new clients, we achieved carbon neutral status and, with team development a strategic priority, 13 members of staff completed Mini MBAs in Marketing and in Brand Management.
In an age of so many great agencies, we pride ourselves in giving every client the very best client service. It's perhaps apt, therefore, to end this release with the words of one of our clients:
Definitely the best service I have received from any agency that I have worked with.
Aditya Kumar, Head of Education, Athlete Integrity Unit
The Sports Business Awards
The Sports Business Awards reward achievement by the teams behind the scenes that facilitate sporting excellence, celebrating the vital influence of organisations and individuals within sport.
The Sports Business Awards judging panel is made up of Chief Executives of Sports Governing Bodies whose knowledge, expertise and experience gives them special insight into the challenges and demands of sports business success. The winners will be announced at a ceremony in London on Friday 10th November.
---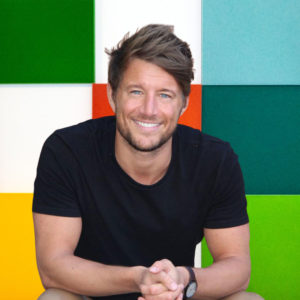 I'm a sport-obsessed film lover with a passion for evidence-based marketing. I'm proud to own an agency that's become one of the most trusted in world sport.
My most memorable sporting moment is … 
Spectating: Liverpool beating AC Milan in 2005 to win the UEFA Champions League.
I am happiest when … 
With family.
The sports person that best represents me is … 
Frederik Fetterlein (Danish Tennis player... worth a google).
The three things at the top of my bucket list are …
1. Complete an Ironman for the charity MIND
2. Learn a (new) language
3. Work with the NFL
A quote I try to live my life by is … 
"Life is as good as the memories you make."
All author posts