Let us begin with a caveat: we're aware most organisations don't have huge bundles of cash to chuck at ads.
We're also aware that huge bundles of cash are exactly what's needed to secure an ad slot at the 'greatest show on earth' … (specifically, $5.6m bundles for a 30 second slot).
Nevertheless, following the slog of the past 12 months, there's plenty to learn from this year's Super Bowl ads (or in Budweiser's case, lack of ad … more to come on this) as they attempted to evoke an emotional response from viewers.
But whether the goal was to make people laugh – Doritos teaming up with a 2D Matthew McConaughey on #FlatMatthew (surely #Flatmatt or Flat-thew McConaughey are better names?), or cry – Toyota's collab with 13-time Paralympic gold medallist Jessica Long – this post is only relevant if the ads actually worked.
Luckily, most (sorry Sketchers) of them did. According to Unruly, ads generated on average 53% more emotional engagement than the 2020 Super Bowl and saw a 41% increase in Twitter mentions (Sprout Social).
Here's the premise: a bizarre year (we've banned ourselves from using 'unprecedented'), a scaled-back Super Bowl with a half-empty stadium, no parties, and no ads from the usual suspects Budweiser, Coca Cola and Hyundai.
So let's begin with 3.5 lessons anyone can take from this year's ads – regardless of budget.
1. We really need to start using more humour
Some facts: 2020 was horrible, 37% of Americans expect ads to make them feel 'good' and a whopping 81% wanted this year's Super Bowl ads to be funny (source: Unruly, Ad Age).
Wanting to be funny and being funny are two different things. But with overwhelmingly positive audience sentiment, it's safe to say that T-Mobile created a Super Bowl ad that was actually funny.
The ad's gist? Adam Levine sets up real-life couple Gwen Stefani and Blake Shelton thanks to a bad mobile connection.
Ironically, the network's other ad (banned for reasons we can't work out), featuring Tom Brady and Rob Gronkowski, was hilarious, prophetic (the two went on to win yet another Super Bowl), and has already racked up over 33 million views on YouTube.
Let's read the room.
Tear-jerking stories told in the right way work (we provide an example later), but there's a full spectrum of human emotions that we as creatives too often ignore for fear of getting it wrong.
2. Mix (relevant) genres to achieve greater reach
Many of us fall back on creative that resonates within our existing echo chamber of audiences.
But if there's one thing you have to start doing, it's creating content that breaks out of this echo chamber to cross genres and cultures.
While it might be hard to believe, your target audience does have multiple interests! Whatever their passions, they're not limited to sport (or they shouldn't be).
It's so important to mix sport with 'popular culture' in a way that's relevant. You should already know (and we mean really know) the audience you're looking to engage (if not, put down your tactical tools and go back to the beginning of the marketing process).
Be sure to revisit what you uncovered during your audience analysis so you use only whatever or whoever is relevant to the people who define the success of your ad.
Cheetos used their Super Bowl spot to bring together actors Mila Kunis and Ashton Kutcher with musician Shaggy and his anthem It wasn't me.
The result? One of the funniest, most nostalgic (who doesn't remember Shaggy's hit from the early 000s!?) and best-reviewed Super Bowl ads ever; 17% of viewers found the content funny — more than 4 times the US average.
2. Performance marketing is good, brand marketing is great (for growth)
It's easy to become focused on the short-term performance of content.
Short-term metrics are, of course, appealing and useful. They're simple to understand and provide immediate results. Who doesn't like seeing a piece of content you've slaved over generate thousands of views? Personally, breaking double digits on a LinkedIn post sends special tingles down our spine.
But while the above is all well and good, performance marketing must work alongside brand building activities to improve brand performance.
We mentioned Budweiser in our intro, and here's the relevance.
After 37 consecutive years of running ads during the Super Bowl, Budweiser took a break in 2021. Well, not a complete break; the brand with the famous frogs still had a few minutes of airtime to fill, but instead used the time to spread COVID-19 vaccine awareness.
'We are eager to get people back together, reopen restaurants and bars, and be able to gather to cheers with friends and family,' says Budweiser vice president of marketing Monica Mody.

'To do this, and to bring consumers back into neighbourhood bars and restaurants that were hit exceptionally hard by the pandemic, we're stepping in to support critical awareness of the COVID-19 vaccine.'
Has it worked? According to Unruly, Budweiser's ad (that wasn't really an ad) was more effective than any Super Bowl campaign of the last 5 years. 70% of viewers said they had a better impression of the brand after watching, with a majority feeling it came across as relatable (76%), genuine (82%) and trustworthy (77%).
In short, look up and think long term.
What is the real impact of what you're doing now on the future of your brand?
.5 Please be authentic 
It's .5 of a lesson because it's something we always mention and probably something you already know.
Be authentic.
None of the above advice means a jot if your target audience doesn't perceive you – and your ad – as authentic.
Humour isn't funny if it's not authentic.
Your music choice will seem random and contrived if it's not authentic.
And yes, you won't get decent brand metrics let alone performance metrics if your content isn't authentic.
A second mention of Toyota's Super Bowl ad emphasises that there are no hard and fast rules to what makes creative successful. As George Orwell so brilliantly put it (albeit with regards to writing), 'Break any of these rules sooner than say anything outright barbarous.'
Or, as we'd put it in this instance:
break any rules and discard any advice sooner than create something inauthentic.
In an increasingly purpose-driven world – where many audiences do care about what a brand stands for (yes, I know there are some who debate this), Toyota's integration of a Paralympic swimmer hit the creative sweet spot.
But the real genius? Capturing the emotions felt by many as a result of COVID, without actually mentioning COVID.
Rather, the ad told the incredible story of double-amputee Jessica Long journey to Paralympic gold, and – for us at least – put the previous year into perspective while also providing hope that there is light at the end of the COVID tunnel.
As the ads final voice-over proclaims:
"… there is hope and strength in all of us."
Conclusion
Most of us don't have huge sums of money to spend on ad creation, but it doesn't matter: the same principles apply whether your budget is $50m, £5m, £5,000, £500 or £5 (actually, if your budget is £5, the first thing you need to know is how to get a bigger budget).
Be funny, mix genres, look up and be real. It won't guarantee you a viral ad but it's a good place to start.
---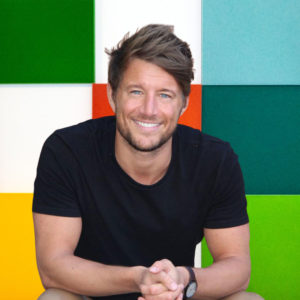 I'm a sport-obsessed film lover with a passion for evidence-based marketing. I'm proud to own an agency that's become one of the most trusted in world sport.
My most memorable sporting moment is … 
Spectating: Liverpool beating AC Milan in 2005 to win the UEFA Champions League.
I am happiest when … 
With family.
The sports person that best represents me is … 
Frederik Fetterlein (Danish Tennis player... worth a google).
The three things at the top of my bucket list are …
1. Complete an Ironman for the charity MIND
2. Learn a (new) language
3. Work with the NFL
A quote I try to live my life by is … 
"Life is as good as the memories you make."
All author posts