Let's face it, the silver linings of lockdown are getting harder to identify. The novelty of filling our spare time with banana bread bake-offs and 5k challenges wore off a while ago.
We miss sport. A lot. It's at the front of our minds. Luckily, rights holders have found ways to keep us entertained while we await the return of live action. Social media has been thriving with creative initiatives – from challenges and replays to athlete takeovers.
So, what can we learn from this?
Here are some tactics for your social strategy – and they'll be relevant long after lockdown.
TIP 1: TURN EVERYDAY EVENTS INTO SPORT
Make light of our competition-free situation and improve morale. Andrew Cotter, whose voice is synonymous with some of the world's best sporting occasions – the Olympic Games, Wimbledon, the Rugby World Cup – has set the perfect example.
Recent coverage of Andrew's dogs 'competing' for a bone has taken the internet by storm. His deadpan and calm delivery of make-believe canine competitions makes us smile, especially as we look to new ways of entertaining ourselves.
Could the absence of live sport be driving more creativity? We think so.
Olive and Mabel's showdown had 665.5K likes, 182.7K retweets, 13.4K comments and 1.7M views.
TIP 2: ENCOURAGE FANS TO SHARE THEIR ACTIVITY
View this post on Instagram
Fans around the world are doing their bit to keep sport alive. Use this positivity to engage audiences and drive conversations.
Garden games are great for ingenuity. Wimbledon's #TennisAtHome campaign is coming up trumps: despite a cancelled Championships, there's no stopping fans living and breathing the game themselves.
Wimbledon share the best submissions, generate big numbers and celebrate sport.
The post above got 386,357 views, 47,197 likes and 741 comments.
TIP 3: CREATE ACCESSIBLE CHALLENGES AND TRENDS 
View this post on Instagram
A call-out from the founders of the Dogist has generated a campaign that everyone can enjoy. "Sports may be cancelled but #DogistOlympics are about to get underway!"
In the absence of live sport, why not fill the void with canine content? It's genius. We love dogs, after all.
We're hooked. From the Head Tilt Challenge to the Best Trick They've Got, the idea is to train your dog (safely) to nail an Olympic-level feat and then share the result to Instagram – great numbers guaranteed through fun and positive messaging.
The launch post achieved 11,974 likes and 750 comments.
TIP 4: HAVE FUN AND CELEBRATE SPORT
View this post on Instagram
Having a laugh is the perfect tonic for challenging times, so run light-heated campaigns that resonate with large audiences.
Team GB's athletes are jumping on this trend with the #IsolationGames as our sporting stars continue to entertain us by sharing their inventive home sport celebrations.
England Hockey's Samuel Ward is leading the way with his increasingly hilarious way of coping with the lack of matchday action. Our favourite video is his play on pole vaulting. (Don't try this one at home!)
Samuel's hockey stick pole vault had 62,401 views, 28 comments and 4,140 likes.
TIP 5: HAVE FUN WITH HASHTAGS 
View this post on Instagram
Playing with hashtags is a great way to keep things fun. Nike have set the goalposts high with its #livingroomcup which challenges athletes worldwide to #playinside. The campaign encourages unity and action as global sport remains suspended.
We particularly enjoyed seeing Henry Slade, England Rugby number 13, nail some tricky footwork overseen by his dog Frank. We now know dogs can be spectators, too.
Henry and Frank's side-stepping saw 10,686 likes and 101 comments.
COVID-19 will have a lasting impact on our use of Social Media. New-found initiatives combined with live sport will generate cocktails of creative content and, as restrictions are lifted, our appreciation for sport will grow. Light is at the end of the tunnel.
---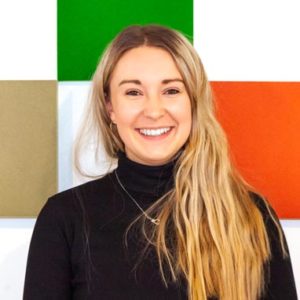 Eventing-obsessed, fan of all things travel and cooking related.
My most memorable sporting moment is…
My most memorable sporting moment is … 
Pippa Funnell winning Burghley Horse Trials for the first time in 16 years
I am happiest when … 
Outside with friends, family, dogs and horses
The sports person that best represents me is … 
Piggy French
The three things at the top of my bucket list are …
1. Complete a triathlon
2. See the Northern Lights
3. Sail around the Galapagos Islands
A quote I try to live my life by is … 
"The harder you work for something, the greater you'll feel when you achieve it."
All author posts