Covid-19 may have paused most

live

 

sport

,

 but it's all systems go at 

Redtorch

.

 
Our robust creative team has been working round the clock to ensure we continue to deliver the highest-quality services to our partners and clients. Here are just FIVE examples of what we've been up to…
International Skating Union – #UpAgain
We've continued our partnership with the International Skating Union and its existing #UpAgain campaign (encouraging skating fans to overcome life's challenges and achieve their full potential) by crafting a new video and voice-over to reflect the current situation.
Adapting the #UpAgain message with creativity and good judgement, the ISU can speak to fans in an authentic and meaningful way.
The result? Over 750k views to date.
International Equestrian Federation – Andrew Hoy takeover
As eventing rider Andrew Hoy took control of the FEI Global social channels in one of the most successful athlete takeovers in FEI history, we covered it all: from a creative brief to promotional graphics, athlete management, a live Q&A, community management, and data collection & analysis.
The result? 2.8m impressions, 1.7m reach, 101k engagements.
While we had high hopes for the Andrew Hoy takeover the end results beat all expectations. The combination of a highly engaged athlete with the management from RedTorch allowed us to achieve the magic combination of high reach, high engagement & positive feedback from the community

Alice Permain, Sports Content Manager, Broadcast & Digital – FEI
International Masters Games Association – #MastersMemories
We designed a campaign to increase engagement among the Masters community by encouraging athletes to reminisce and share their favourite #MastersMemories to a dedicated email inbox. These are integrated onto the IMGA website and Flickr page Masters Memories Wall; the best are shared on social.
The result? An increase in engagement – and a lifting of the spirits – among the Masters community as well as a positive buzz around Masters Games events.
"As the athletes in our Masters community in most cases are not able to practice their beloved sport in these unprecedented times, we wanted to bring joy in the community by letting them share a favourite memory from their Masters experience.

We've used a cross-platform communication approach by sharing the content on Facebook, Instagram, Flickr and our website. It has given good visibility and showed a strong increase in engagement on all our digital platforms."

Jens V. Holm, CEO – IMGA
We launched a rider-led UGC campaign, asking riders and FISE fans to share their all-time favourite FISE moments, with a powerful trailer created by Ginger, our very own Digital Designer.
The result? Throwbacks, tricks, flips, fails – the entries came flooding in. Over 10.4m impressions, 258k engagements and 3.9m video views in just one month.
"I've been blown away by the level of support provided by Redtorch since the lockdown. Their team has worked tirelessly to go above and beyond and we couldn't be more grateful."

Joseph Villeflayoux, Marketing & Communications Director – FISE
Action sports fans get ready – It's time to share your favourite FISE moments!💪

From photos with awesome riders to epic runs at FISE events, we want to see your videos and pics! 📹📸

Share the best moments using #FISEFavourites and tag your mates to share theirs! 🔥 pic.twitter.com/46WnYq6KA5

— FISE (@fiseworld) March 25, 2020
Redtorch and 9024 – 'Football During Lockdown' report
We partnered with Digital Football experts 9024 Media to produce a free, exclusive Report examining the impact of COVID-19 on footballers' social media influence.
Key insights:
• footballers have the highest average engagement rate on Instagram
• they are producing 15% more video content than before lockdown
• they've seen an 82% increase in video views overall
The result? 469 opens and a 6.7% click-through rate for the launch email; the Report (launched 7 May) is already the 5th most viewed page on the Redtorch website – ever.
Download the Report here.
"It was great to work with all the guys over at Redtorch on the recent 'Football During Lockdown' report.

Their incredible attention to detail when extrapolating data was invaluable to the report. I'm glad to say everyone at Redtorch, with their team orientated approach, made the work collaboration incredibly easy! We can't wait to work on the next one!"

Paddy Tyldesley, Account/Activation Manager – 9024 Media
Redtorch is extremely proud to work with many of the biggest organisations in sport, helping them grow their audiences through data-inspired insights, creative and content.
If you'd like to find out how we can help maximise your social presence, please get in touch: hello@redtorch.co.
---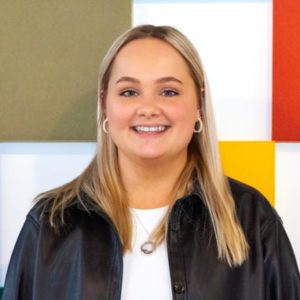 Northern Irish, sport-obsessed and probably the most competitive person you'll ever meet.
My most memorable sporting moment is ...
Any time my local football team Glentoran beat their rivals Linfield.
I'm happiest when...
Watching sport surrounded by friends and family, with a glass of red in hand.
The sports person that best represents me is...
Billie Jean King.
The three things at the top of my bucket list are...
1. Meet Rafa Nadal (love of my life)
2. Watch Ireland win a Rugby World Cup
3. Own as many dogs as possible
A quote I try to live my life by is...
"Change the way you look at things and the things you look at change" - Wayne Dyer
All author posts