Health, wellness, fitness, exercise, sport … words like these feature time and again in modern lifestyle conversations.
As a result, international sports organisations have many exciting opportunities to become better connected with their audiences through offering additional 'lifestyle' products and marketing programmes to attract new consumers and subsequent revenue streams.
The simple lifestyle choice model below illustrates these connections.
What are consumers thinking now?
Research data shows that health and wellbeing are increasingly important for consumers all over the world. Recent research from Boston Consulting Group and Nielsen Global Connect suggests that consumers' desired health outcomes are not generally being met.  Approximately 97% said health was important to them but only 64% believed they were en route to a healthy lifestyle; a mere 12% thought they had fully achieved one.
These figures emphasise the perceived importance of health and wellbeing. They also make clear the great opportunities for sport to bridge the gap that exists between where health-aware consumers feel they are now and where they want to be.
Connect sport and healthy living for growth
International sports organisations are well positioned to connect their sport to a healthy lifestyle:
they work with elite athletes who personify health and wellbeing and who are influencers with their own audiences
they have a global network of National Federation members to implement health and wellbeing activities alongside sport development
they own major event / franchise programmes to engage and encourage people with healthy-living activities
In today's purpose-driven world, could there be a more perfect match?
Zooming in on the key areas …
Interestingly, research also shows that very word 'sport' can be a reason for non-participation – 60% of adults indicate that they are not more active because they 'just don't like sports' and find the structures a 'turn off'.
How can sport overcome this problem?
Organisations need to adapt to the ways people want to engage in physical activity by focusing on the health benefits of their sport.
There is increasing evidence that some sports organisations are already taking advantage of the new trends. Here are just a few examples of recent announcements made by brands, clubs, and sports organisations over the past 30 days:
Brands:
Fitness apparel company Lululemon announced plans to acquire home exercise start-up MIRROR for $500 million, enabling it to move in on the expanding in-home fitness market.
Clubs:
Chelsea FC has just launched a sports nutrition app called Blue Fuel, promoted by its star players. It provides personalised products and meal plans for a subscription that starts at about £25 a month.
Sports organisations:
World Athletics and parkrun Global Limited announced a new partnership that combines their resources to grow the sport of athletics and create positive health and fitness outcomes for global communities.
There is well-documented competition for audience in the sport and entertainment sectors. I believe sports can achieve significant audience growth if they focus on market and product development, and diversification into the healthy-living sector.
With a global wellness economy valued at $4.5 trillion and the fitness industry set to generate $106 billion in 2020, the numbers are enormous.
There are, of course, risks associated with entering any new market. But working with partners who have similar ambitions can bring huge benefits. As the renowned American management consultant Peter Drucker states, "The enterprise that does not innovate ages and declines. And in a period of rapid change such as the present, the decline will be fast."
In summary:
For traditional sports organisations prepared to adapt to changing consumer lifestyle choices,
there is significant potential for audience and commercial growth in the healthy-living market.
Get in touch to see how Redtorch help your organisation 👉  hello@redtorch.co
---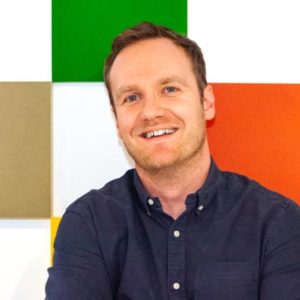 Digital savvy. Always inquisitive. Sport loving and father of two young and very energetic girls.
My most memorable sporting moment is … 
Spectating: Zenit St Petersburg v Liverpool with fellow director / friend Alex Ross.
Participating: Marathon in 3hr 40mins.
I am happiest when … 
With family on the beach or in the mountains.
The sports person that best represents me is … 
Geraint Thomas.
The three things at the top of my bucket list are …
1. Heli skiing with family and friends
2. Visit South Georgia and the South Sandwich Islands
3. Climb Everest / Surf Chicama
A quote I try to live my life by is … 
"It is not the strongest of the species that survives, nor the most intelligent that survives. It is the one that is most adaptable to change."
All author posts