Nicolas Maingot, Senior Communications Manager at the Fédération Internationale de Hockey (FIH) shares his thoughts on 'how has COVID impacted FIH and what the future holds for Hockey's Governing body.'
What has been FIH's biggest challenge during lockdown?
Nicolas: Clearly, it's been the fact that we've had no international hockey for about six months now. This is really tough for everyone involved, first and foremost for players of course, but also for fans and for all those who are involved in the sport at every level. For most, hockey is more than a sport, it's a community, a second family even. So, it's a huge loss to all involved. And of course, one challenge which is linked to that is what the financial consequences are likely to be. Therefore, we've been acting very responsibly and even more cautiously than usual when it comes to our budget use and planning.
What are the key learnings from the past 6 months?
Nicolas: I don't know if the following qualifies as a "learning", but I would say that one of the things we've realised is that, despite a very challenging situation, the hockey community has been very agile. While the pandemic has forced hockey athletes to stay home as long as is necessary, individual training has never stopped, with many athletes sharing videos about their workouts on social media. Then, as soon as the pandemic has become less aggressive in a country, National Associations and clubs have devised measures to allow team training to start again, while protecting everyone's health. When it comes to FIH, we've realised that a lot can be achieved online. Probably more than we would have thought initially. This is an interesting learning for the future.
Has FIH found any new opportunities during lockdown?
Nicolas: Yes, definitely. For example, while we usually organise a lot of courses (coaching, management, equipment, etc.) around the world, together with Continental Federations and National Associations, we've decided to pursue this activity, but online due to the circumstances. And it's been a huge success! To the extent that we will surely continue in the future even when the world goes back to "normality". In terms of our communications activities, we've had to shift our content – usually very much event-driven – to more human, social, emotional and  inspirational stories. And this has worked really well. We've engaged closely with our community and, thanks to them, we were able to publish some great user-generated content. We've tried to compensate the lack of live action by posting highlights of old matches on Facebook and Instagram, which has helped us maintain good video views on our social media platforms. We've also spent much more time engaging with Hockey's top athletes around the world, publishing players' profiles, doing Instagram live interviews, etc. All this has also contributed to building foundations for the future.
How have your fans responded to FIH content in recent months?
Nicolas: As I mentioned above, since we organise a lot of events, our content is usually event driven. Therefore, as soon as the events had to stop, we did lose some traction initially. However, after a while, our audiences started to increase again. We're lucky to have a very engaged community in hockey. I think that the nature of our content, with more inspirational stories, has also matched with what our community has been expecting and maybe even needing during this time. And I do think that when the world goes back to normal, we will have to adjust and strike the right balance between events-related content and such stories.
What are your priorities for the next 6 months?
Nicolas: First, we're all very eager that the FIH Hockey Pro League – our global home-and-away League involving the best of hockey – starts again! This is planned for 22–23 September with matches between Germany and Belgium, Men and Women. This event is a key promotion driver for our sport and therefore it is essential to have it back. Then we will soon be launching an App, which we want to be the digital hub for hockey players and fans alike. It encompasses an OTT. Therefore, the App will be based largely on video content but will also include stories. This is our big next step to engage further with our community. We're also working hard on the preparations for our next events (FIH World Cups, FIH Indoor World Cups, FIH Junior World Cups) and on the growth of the 5-a-side format of hockey, called "Hockey5s", which we see as a major development for our sport in the years to come.
How will hockey be different in a post-Covid world?
Nicolas: The game will not change. Fans will go back to the stadiums. Hockey will be broadcast or streamed. All that won't change, really. What will most probably increase is digitalisation, especially when it comes to management of the sport as well as engagement with fans and athletes.
How difficult is it for FIH to organise so many events a year with social distancing in place?
Nicolas: Of course, it is challenging. Ensuring the safety and protecting the health of everyone involved is the absolute priority, therefore you have to make sure that the appropriate measures, in accordance with the health protocols defined by public authorities, are strictly implemented. The uncertainty of the evolution of the pandemic is another challenge. You need to plan ahead and, at the same time, you have to be flexible enough to adjust these plans quickly and efficiently to a potential new situation or requirement. Also, when you have to play without spectators, that of course has an impact on the match experience. So, yes, it's not an easy task to organise events in the present circumstances, but it's not impossible either and ultimately, if events can be organised, even behind closed-doors but broadcast or streamed, it's good for athletes and fans.
Are you starting to look ahead to the Tokyo Olympics?
Nicolas: Of course! Actually, we haven't stopped our preparations at all. We look at the postponement of the Games as an opportunity to prepare better to showcase our sport in the best possible way. We have regular talks with the IOC and with TOCOG. We're very much looking forward to next year's Olympics in Tokyo!
What impact would the cancellation of Tokyo 2020 have on the FIH?
Nicolas: We're constantly monitoring the global evolution of the pandemic and we're obviously very much aware of its potential impact on the organisation of sports events. However, we remain positive and are working on delivering the best Olympic hockey events we can, rather than thinking about anything else. A cancellation would be extremely sad, first and foremost for athletes and fans. The Olympic Games have such a status in the world of sport! For sure, it would have a negative impact on FIH, but it's difficult to anticipate at this stage how big that would be.
In one word, describe the past 6 months ...
---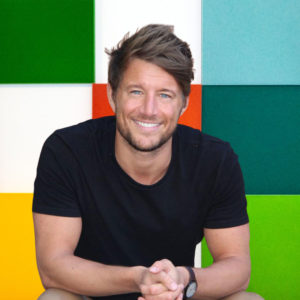 I'm a sport-obsessed film lover with a passion for evidence-based marketing. I'm proud to own an agency that's become one of the most trusted in world sport.
My most memorable sporting moment is … 
Spectating: Liverpool beating AC Milan in 2005 to win the UEFA Champions League.
I am happiest when … 
With family.
The sports person that best represents me is … 
Frederik Fetterlein (Danish Tennis player... worth a google).
The three things at the top of my bucket list are …
1. Complete an Ironman for the charity MIND
2. Learn a (new) language
3. Work with the NFL
A quote I try to live my life by is … 
"Life is as good as the memories you make."
All author posts