How to grow and engage audiences outside event time in a post COVID world was the topic of our second #SportOnSocial Roundtable – and it provoked a lot of insightful and forward-thinking conversation.
A range of ideas and questions were voiced during the hour, one of the most notable being How do we keep content fresh when there are no live events?
The panel of industry experts included Michelle Sammet from World Athletics, Richard Pettit from the IOC and Joseph Villeflayoux from Hurricane Group (FISE).
Here's a summary of what they had to say.
CONTENT
Facilitate – Federations should become content facilitators between athletes, fans and brands.
Mix it up – use both competition and lifestyle content to grow audiences and your sport.
BRIDGE THE COMPETITION / LIFESTYLE GAP
(Don't) look to the stars – it's not just about the stars; get all your athletes to tell compelling stories including moments that resonate, often on an emotional level, to connect with fans.
Build bridges – use campaigns to bridge the gaps between lifestyle and elite sport. e.g. World Athletics and its 'Fitter with Friends'.
There are others – providing out-of-competition content and empathetic stories will attract new fans with high lifetime value. The more relatable the content, the better the performance – The #UpAgain campaign created by the ISU is a prime example of this.
EMBRACE CREATIVE FREEDOM
Upskill – ensure athletes continue to 'upskill' and increase their content output on social media knowledge of digital and social comms is effective than ever through – this encouraged continue to develop their skills by hosting training programmes and workshops.
Engage – support athletes so they can better engage with IFs and each other. Create a meaningful campaign that encourages athletes to promote their sport and IF on social media.
Offer a helping hand – encourage coaches and support staff to continue with content production, e.g. filming and distributing behind-the-scenes training sessions.
WORK WITH ATHLETES
Support – dedicate a member of your team to work directly with athletes.
Teach – help athletes to use social media more effectively, giving them advice on appropriate platforms, best practice, and how to avoid pitfalls.
Listen – to your athletes who are ambassadors with increasing awareness of the impact they can make. Remember: they are the people your audience is interested in and want to hear from.
Promote – your athletes, create stars, and your sport will grow.
PRESENT YOUR SPORT, CAREFULLY
Re-think – the world is changing. How does your sport appear to the world? Is it still being presented in the right way?
Investigate – how, when and where you can advertise your sport outside the normal competition environment.
Interact – with your athletes throughout this process. They will often approach things from a different perspective.
Involve – your athletes in any new initiatives so they can contribute to planning and developing future strategies and events.
INNOVATE AND USE TECHNOLOGY
Be brave – don't be afraid to make mistakes: innovation will drive media interest in your sport.
Think digital – digital can connect live competition/performances that are part of the same event but take place in different locations.
Use digital – broadcasters want athlete content and representation, and digital can connect the two. Through athletes' use of their phones, they can help to supplement broadcasters with content through digital production.
Live events are king – this won't change any time soon so make the most of your live-events through effectively integrating lifestyle elements, content and influencers.
CONCLUSION
Fans and athletes share a passion for content. Now is the time to get creative, think differently, and be brave.
It may seem like we are stuck between a rock and a hard place at the moment when it comes to content, but not all hope is lost.
The suggestions made above offer tactics and ideas you can implement to give your content new life and continue to engage your audiences in unique and exciting ways.
Get in touch to grow and engage your audiences even when there are no live events 👉  hello@redtorch.co
---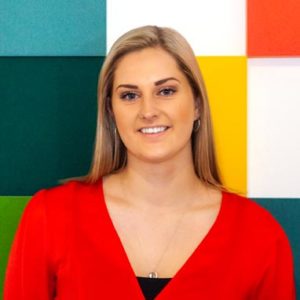 I am a food-loving, dog-appreciating, hockey player.
My most memorable sporting moment is…
Full on face planting on the Spine Ramp at FISE Montpellier in front of a crowd of 6,000 people and a load of professional Skateboarders...
I am happiest when …   
I have food in my mouth.
The sports person that best represents me is …  
Kate Richardson-Walsh.
The three things at the top of my bucket list are …
1. Travel around China and Japan
2. Meet Trixie Mattel
3. Learn a second language
A quote I live my life by is …  
"They say I'm the Hottest MC in the Game. If you label me that, I will live up to it. Trust me." – Lil Wayne.
All author posts