Updated Tuesday 30 June 2020
Redtorch conducted a #SportOnSocial Survey in November 2019 asking how International Federations (IFs) were using social media – to find out their strengths, the challenges, and potential areas for growth.
One question cropped up time and again … Should we be on TikTok? Is so, how do we make the most of it?
Since the Survey, the world has been hit by COVID-19 and a lot has changed.
While people are spending more time than ever on their phones – the question is whether the public's love affair with TikTok is a true romance or just a lockdown fling?
Here are some interesting TikTok updates since the start of 2020.
You should definitely use TikTok if your target market is Gen Z or Gen Y. 66% of its users are under the age of 35. The platform is growing in other demographics, too.
It's not completely straightforward, of course. Launching any platform and developing any new digital strategy is never an easy decision or a simple task.
IS TIKTOK THE RIGHT SOCIAL MEDIA PLATFORM FOR YOU?
As with every platform, consider the pros and cons of TikTok before creating an account. Here are some key insights to help in you make your decision.
TIKTOK: PROS
Content can be created in real time or pre-recorded
This allows you to capture behind-the-scenes/ad-hoc moments AND pre-planned content.
Cheap, quick, easy
You don't have to spend money for your content to be seen (although it's an option). With a clear idea of what you want to create, the process is pretty quick and painless.
Limitless creativity
There is an endless choice of creative content, all with a multitude of filters and effects available.
Ever-evolving trends
The 'For You' feed constantly supplies new ideas. Gen Z and now Gen Y make up the main demographic on the app: these young hipsters create trends you can jump on.
Campaign hashtags
The 'Discover' page enables you to search for specific hashtags and/or content relating to them
Cross-platform connectivity
Your content does not have to live only on TikTok. You can connect and share it on other channels such as Instagram or Facebook.
TIKTOK: CONS
Initially time-consuming
TikTok is a unique platform. It takes a bit of time to get your head around all the content choices and how to record the content.
All content is UGC
Thought and time must be put into every post: a simple re-post is not an option.
Trends rule TikTok
Unless you create a viral trend of your own, or a hashtag for users to follow, your content may get lost.
Constant athlete access required
Your content is your athletes. Rights holders who only connect with them a few times a year during competition time might struggle.
Privacy issues
There have been issues regarding sensitive footage and privacy settings – take this into consideration when creating content and working with influencers.
Too much choice?
If you don't have a clear idea of what you want to create, the numerous filter/effect options might be overwhelming.
Need for a dedicated person/ team
ARE BRANDS USING TIKTOK?
In a word, yes!
TikTok proved the perfect tool for brands to engage with new and highly engaged audiences during lockdown.
A great example is Team GB and the #IsolationGames campaign that challenges British athletes and the public to recreate (as creatively as possible!) a summer of sport in their own homes. It has also been an opportunity to support Team GB's official charity partner, the British Red Cross.
To date, #IsolationGames there have been 1.2 billion video views on TikTok!
FINAL THOUGHTS
TikTok continues to grow and evolve, giving the likes of YouTube, Instagram and Snapchat a run for their money.
Three main takeaways:
Do you and your team have the time and resources to take full advantage of what TikTok has to offer?
Remember that, despite its growing demographic, Gen Z and Ys still make up 60% of TikTok users (for some context, that's 74 million people in the US).
If your target audience is Gen Z or Gen Y and/or you're looking to launch a UGC/ hashtag campaign, TikTok is a no-brainer.
As the world slowly comes out of lockdown, it'll be interesting to see whether the public's love affair with TikTok is a true romance, or just a lockdown fling.
Call me old fashioned, but as an unashamed romantic I hope it's a true romance and TikTok is here to stay.
---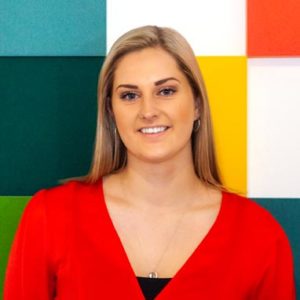 I am a food-loving, dog-appreciating, hockey player.
My most memorable sporting moment is…
Full on face planting on the Spine Ramp at FISE Montpellier in front of a crowd of 6,000 people and a load of professional Skateboarders...
I am happiest when …   
I have food in my mouth.
The sports person that best represents me is …  
Kate Richardson-Walsh.
The three things at the top of my bucket list are …
1. Travel around China and Japan
2. Meet Trixie Mattel
3. Learn a second language
A quote I live my life by is …  
"They say I'm the Hottest MC in the Game. If you label me that, I will live up to it. Trust me." – Lil Wayne.
All author posts