This month's review of our favourite social posts has a new 'spin'.
With Tokyo 2020 just 11 months away, it's time for National and International Federations to step up their game on social. As excitement builds, and heads start turning towards the Olympics, how are federations using social media to grab the attention of new and existing sports fans and what can we learn from them?
Throughout July, we've kept a close eye on tactics that are being tried, tested, reused and adapted by International Federations on social – and here are our top 5.
1. FIFA: Show us your sorcery
TACTIC: Promote user-generated content (UGC)
Talking of 'spins', our first post is an awesome reminder that we must not underestimate the power of UGC.

This lad performed a mid-air spin while simultaneously knocking the ball into the back of the net.  Apparently, he did it on purpose … The post generated 1.6M views on Instagram – more than FIFA's latest video of Carlos Tevez's World Cup goal!
FIFA jumped straight on it and requested more UGC using the hashtag #WeLiveFootball
2. FIVB: #FaceApp challenge
TACTIC: Capitalise on social phenomenons
If you haven't heard of #FaceApp… seriously, which rock have you been hiding under?
This app challenge hit our smartphones like a storm last month. Who doesn't want to see what they might look like as a man, a woman, an elderly person or a child?
FIVB adopted the latest craze. They 'aged' several star players and called for followers to say who they wanted to see next.
A photo of Iran's no. 16 Ali Shafiei was FIVB's 2nd highest-performing photo on Instagram in July with 34.5K likes, topped only by – guess what? – another social phenomenon: four of Iran's men's team accepted the #BottleCapChallenge and the post got over 46k likes.
3. BWF: Badminton at its very best
TACTIC: Share simple and emotive footage
Sometimes, all it takes is a short graphic-free video using real content to show real emotion.
A hug, a handshake, a shirt swap.

4. FIH: She did what?!
TACTIC: Utilise archive footage
That's right – it seems Argentina's Agustina Habif had a moment of confusion during the 2018 Hockey World Cup by taking a swipe at the goalkeeper's glove instead of the ball.

Despite the footage being over a year old, it was FIH's best-performing video post (118k views) on Instagram, not only for July but for all of 2019 to date!
Each federation has their own gold mine of archive footage. Why not dig out and share those gems? Be they funny, breath-taking or unprecedented, fans love to relive those unforgettable moments.
5. FIL: Off-season entertainment  
TACTIC: Post athlete-generated content
Blink and you'll miss it. This 11-second video was FIL's top-performing Facebook video in July with 6k views.

It's a straightforward athlete-generated clip showing the Bosnia and Herzegovina Luge team during summer training. Fans were in awe of their bravery/madness as they took on a retro concrete course.
You don't need to blow the budget to create your best-performing content on social. The right piece of archive, user- or athlete-generated content can send your engagement rate through the roof.
And while you're still here…
If you're interested in seeing how our team of experts can help you maximise your social presence, our Strategy Director Chris would love to chat.
Photo credit: Medcom.id
---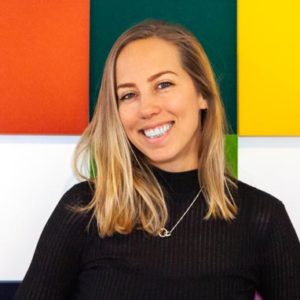 Redtorch Comeback Queen. Not allowed to take part in family games at Christmas because 'I take them too seriously…'
My most memorable sporting moment is…
When the Queen skydived into the London 2012 Opening Ceremony with 007.
I'm happiest when…
Skiing fast down a red on a bluebird day, preferably towards a log cabin that sells mulled wine.
The sports person that best represents me is…
Eddie the Eagle Edwards. I love to try new sports (tag rugby, softball, beach volleyball) but don't necessarily have the ability to match. Probably won't make it to an Olympics Games though.
The three things at the top of my bucket list are…
1. Complete the Three Peaks Challenge with my sister
2. Renovate a camper van and explore the UK's hidden gems
3. Visit Japan (happy to accompany anyone to Tokyo 2020 if there's a spare ticket going…)
A quote I try to live my life by is…
"When I let go of what I am, I become what I might be." – Lao Tzu
All author posts