If you work in sports marketing and are planning to promote an upcoming event, you need to get creative and cut through the noise or you risk not achieving your goals. It's every marketer's fear of planning a big event but it not gaining enough attention. However, with a creative campaign in your arsenal you can deliver huge impact not only for your event but for your brand. As well as short term wins like ticket sales and audience engagement, a creative campaign will also help you build your brand, grow sponsorship value and help you monetise your audience. As Les Binet and Peter Field wrote in the marketing bible 'the Long and the Short of it', this combination of short and long-term effects will be key to driving your organisation's success over time. Here's how…
Selling more tickets
Build audience anticipation and drive ticket sales pre event. If a Local Organising Committee has responsibility for this you can localise the global creative campaign for them, providing on-brand assets to drive sales through their channels.
Growing/engaging your audience
To grow your audience beyond the hardcore, you need to engage the casual sports fan. A powerful creative campaign will help do this successfully by tapping into fans' other core interests, e.g. music, gaming, fashion, food. For example, the Fédération Equestre Internationale's (FEI) #WeDontPlay campaign for the Tokyo 2020 Olympics united the equestrian industry around what makes their sport unique. It's inclusivity and lack of barriers around age and gender. Listening to the audience was the key starting point and the campaign name itself was selected via fan feedback in focus groups and surveys.
Developing your athletes as influencers
Your athletes are your influencers. Fans relate to them at a much higher level than they do to a sports organisation or brand. Getting your athletes to star in campaigns will help grow interest in your event. Fans want to get closer to their heroes on and off the pitch – by facilitating this you can continue to grow your brand post event.
The International Skating Union's (ISU) #UpAgain campaign did just that and helped Skating become the no.1 sport at the Beijing Olympics. Throughout their coverage, the ISU highlighted athletes from key territories around the world, sharing their incredible stories with skating fans.
Building your brand
Consistent brand building is perhaps the most important thing a marketer in sport can do. While recognising the obvious short-term benefit of selling as many tickets as possible, building your brand over the medium and long term will make your marketing even more effective as fans are more likely to take action whenever they see your marketing. A bold creative campaign enables fans to establish exactly who you are and what you stand for. Thanks to strong branding and creative campaigns, Venezia FC, for example, is no longer just a lowly Serie B Italian football team – it has become the most fashionable team in the world, selling football shirts to a global audience of young fans. Another example of a brand shifting perceptions is the work the World Anti Doping Agency (WADA) do to promote their annual #PlayTrueDay. It's important for WADA to show they are not just a strict authority out to punish athletes, but that they are there to unite and educate the whole sporting community. Every year the campaign sees more and more athletes get involved and it has become synonymous with the WADA brand.
Building value for your sponsors
By creatively establishing a clear brand position, you'll be able to attract sponsorship from brands interested in reaching your target audiences and aligning themselves with your values. Producing sponsored activations into campaigns provides your sponsors with new ways of connecting with fans while also providing new revenue streams during event time for you. Sponsorships can be a win-win for both promoting your partner's brand but also your own events. Look at the FEI's Longines #MyDreamJumpChallenge. The campaign not only got lots of eyeballs on headline sponsor Longines' brand, it was also a great platform for promoting their Longines FEI Jumping World Cup Final.
Understanding your audience better
First-party data-gathering activations that invite your audience to enter prize draws can help build a greater understanding of your audience, their interests and needs. You can collect even more detailed data from your fans at events through in-app reward schemes. Collecting this kind of information helps inform and improve your marketing strategy post-event.
Want to read more on event marketing best practice in the sports industry? Check out our article on how the International Federation event promotion model broken and how we can fix it by clicking here.
Redtorch has won multiple awards for its creative campaigns designed for rights holders during global sports events. If you're interested in exploring the benefits of such a campaign, please contact jonny.murch@redtorch.sport.
---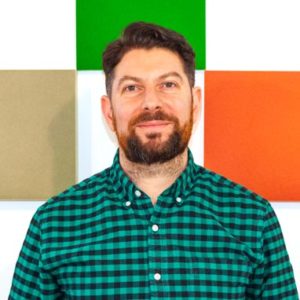 My most memorable sporting moment is … 
Scoring a goal at The Emirates. I think you can probably see how much it meant to me from my reaction.
I am happiest when … 
Having adventures in the countryside with my family, whether it's canoeing, wild swimming or camping.
The sports person that best represents me is … 
Former Arsenal midfielder Mathieu Flamini. Loads of effort and enthusiasm plus an awful lot of pointing.
The three things at the top of my bucket list are …
1. Whale spotting
2. Northern Lights
3. River vs Boca
A quote I try to live my life by is … 
"Hard work beats talent when talent doesn't work hard." – Tim Notke
All author posts