Photo credit: canoephotography.com
The International Canoe Federation (ICF) has selected Redtorch to deliver a global campaign to engage recreational paddlers prior to Tokyo 2020..
"One particular area of interest for ICF right now is connecting with recreational fans across canoe, kayak, and also stand-up paddleboard (SUP) which is one of the fastest growing sports in the world," said ICF Digital Media Manager Adam Collins.
"As an international federation during a global pandemic, it's vital we encourage people to explore new ways to exercise. This is just one of the things we hope to achieve with the campaign."
"This is a really exciting brief and we are looking forward to developing a campaign that will help ICF develop its brand beyond sport into the world of active lifestyle, travel and recreation," said Redtorch Creative Director Matt Weiner.
"This is a fantastic example of the way our data, strategy and creative teams work with organisations to identify and deliver audience growth."
The campaign is set to launch in February 2021 and run until May 2021.
—–
Further information
Matthew Weiner, Creative Director, Redtorch
T: +44 (0) 7802 512 723
E: matthew.weiner@redtorch.co
—–
About International Canoe Federation
The International Canoe Federation (ICF) is the world governing body for paddle sports contested around the globe, including the Olympic sports of canoe sprint and canoe slalom, and the Paralympic event of paracanoe. The ICF is responsible for all international events and holds world championships in all of the 11 disciplines it represents.
Established in 1946, the ICF is the umbrella organisation for all the national federations with five continents and 167 countries affiliated. Providing global leadership to enable, inspire and activate people in the pursuit of participation and excellence in paddling activities.
Learn more at www.canoeicf.com
About Redtorch
Redtorch is a London-based, independent sports marketing agency made up of sport-obsessed data fanatics, strategic thinkers and creative communicators.
Known for their enthusiasm, initiative, agility and creativity, they work with organisations to deliver bespoke and data driven solutions that understand, grow and engage audiences worldwide.
They work with many of the biggest organisations in sport, with clients including: the International Olympic Committee, ANOC, Longines, ICF, City of Detroit, International Equestrian Federation, GAISF, and many others
Learn more at www.redtorch.sport
Check out their Twitter @redtorchltd and their LinkedIn @redtorchltd
---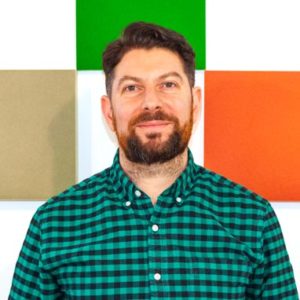 My most memorable sporting moment is … 
Scoring a goal at The Emirates. I think you can probably see how much it meant to me from my reaction.
I am happiest when … 
Having adventures in the countryside with my family, whether it's canoeing, wild swimming or camping.
The sports person that best represents me is … 
Former Arsenal midfielder Mathieu Flamini. Loads of effort and enthusiasm plus an awful lot of pointing.
The three things at the top of my bucket list are …
1. Whale spotting
2. Northern Lights
3. River vs Boca
A quote I try to live my life by is … 
"Hard work beats talent when talent doesn't work hard." – Tim Notke
All author posts