As another incredible year of sport ends, we're taking a moment to look back at some of 2019's best-performing social media posts from sports rights holders. And, because it's Christmas and a time for giving, we've added a few more to our usual 'Top 5' just for you.
Here are some favourites…
1. FIBA3X3: Feed me some memes!     
In a world full of serious sports content – results, game replays, athlete interviews – a topical meme can have the power to make us pause… laugh… and share.
FIBA3x3's mesmerising ice cream meme video does all that. It compares a frustrated customer trying to get an ice cream to the challenge of guarding the world's top 3X3 basketball player Dušan Domović Bulut.
With 194M+ views, it's a massive Facebook hit – and there's not even a basketball in sight!
It's been another big year for memes – Gen Z loves them, brands love them, and they're inexpensive to produce. In fact, Bloomberg reports that brands are now bypassing influencers and targeting teens direct.
Are you ready to make some badass memes?
2. PGA Tour: Don't try this at home
These two golfers were lucky that hunger wasn't a factor in this unusual incident.
Forget '2 different ways to swing a golf club'. In a hilariously stitched video, the PGA Tour offered '2 different ways to deal with an alligator'!

This piece of comedy gold, featuring Cody Gribble and Smylie Kaufman, was captured 2 years ago at the 2017 Arnold Palmer Invitational at Bay Hill Club & Lodge in Orlando, Florida.
Realising they had hit 'content jackpot', the PGA Tour has sliced, diced and repurposed the content several times since to achieve maximum giggles. The content was posted on Facebook twice this year, and together achieve a total 166M+ views.
So… which golfer are you?
3. Wimbledon: A little conversation goes a long way
Where were you on Sunday 14 July if you weren't tearing your hair out watching England face New Zealand or on the edge of your seat screaming at either Djokovic or Federer?
It was an exhilarating afternoon of sport but, due to a clash of TV schedules, the choice had to be made between a Cricket World Cup and a Wimbledon Final. Oh, and not forgetting the Formula One Grand Prix!
Wimbledon made light of the dilemma. It even offered to share social media presence when it engaged the International Cricket Council (ICC) with a question…
Hello @ICC – how are you coping your end?#Wimbledon #CWC19Final

— Wimbledon (@Wimbledon) July 14, 2019

This simple text tweet received 85.5K+ likes and was retweeted 19.2K+ times. Fans loved the interaction between rights holders as they took a quick break from event reporting. It also gave Wimbledon a personal voice to share its feelings.
With an international tournament just around the corner, World Rugby jumped into the conversation and cheekily thanked Wimbledon and the ICC for 'the warm-up'!
4. Rugby World Cup: Respect above results
On the subject of rugby…
Rugby Canada may not have made a name for themselves on the pitch at this year's Rugby World Cup in Japan, but they certainly did off it. Their commendable clean-up effort in Kamaishi following Typhoon Hagibis made headlines around the globe.
Following the cancellation of their match in Kamaishi, @RugbyCanada players headed out to help with recovery efforts, showing the true values of the game.

Amazing scenes and brilliant to see from the team. #RWC2019 pic.twitter.com/jdXQlyD2ZM
— Rugby World Cup (@rugbyworldcup) October 13, 2019

Amidst the losses, wins and cancelled matches, Rugby Canada's actions personified the values of the game and reminded us what really matters.
We're not sharing the numbers for this one (they were high) because the post was more about respect than results.
5. FIFA Women's World Cup: Storm in a teacup
From one World Cup to another, a memorable moment at the FIFA Women's World Cup was not necessarily USA striker Alex Morgan's tie-breaking goal, but rather her controversial tea-sipping goal celebration in the semi-final against England.
— FIFA Women's World Cup (@FIFAWWC) July 7, 2019

Theories as to what this symbolised spread online like wildfire.
Some took offence, seeing it as an insult to a favourite English pastime, others linked it to the upcoming US Independence Day. Morgan said later that she had been using the popular slang phrase 'that's the tea' in reference to the fact they had had a challenging route through the tournament.
Whatever the reason, FIFA decided to tease fans after the U.S. Women's National Soccer team won the final: it posted a photo of Morgan replicating her tea-sipping celebration with the World Cup Trophy!
FIFA's cheeky gamble paid off. With the controversial move still fresh in everyone's minds, the post become one of the highest engaged-with posts (44K engagements) on FIFA Women's World Cup Twitter channel.
6. La Liga: A work of art
Extraordinary displays of sporting talent are often referred to as a 'works of art'. Spain's top professional football division La Liga took this quite literally in its recent post featuring FC Barcelona and Luis Suárez.

Rather than simply clipping and posting original footage of the team's smooth ball-handling skills that led to Suárez's impressive goal, La Liga got creative and transformed the video clip into a piece of art. The video is framed and paint splats are used to highlight ball play.
Fans clearly enjoyed this different take. Despite being posted just over a week ago, the video already has 9.5M+ views and is one of La Liga's highest-performing Instagram posts of the year.
7. MotoGP: Man verses machine
South African Steven Odendaal gave the motor racing world something to talk about when he made an unbelievable save during the Moto2TM Free Practice in Brno, Czech Republic earlier this year.

And talk on social they did… this video alone generating 78K+ comments. The spotlight shone bright on the rider as fans discussed the strength, skill and calm character required to keep control of the bike the way he did.
One helpful fan even suggested Odendaal had a career as a rodeo rider should he want it!
And while you're here…

Find out how our team of experts can help maximise your social presence. Our Strategy Director Chris would love to have a chat.
Photo credit: Wired
---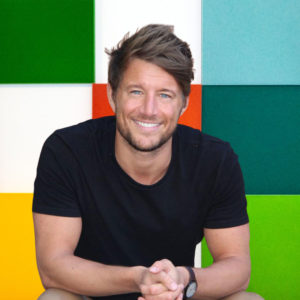 I'm a sport-obsessed film lover with a passion for evidence-based marketing. I'm proud to own an agency that's become one of the most trusted in world sport.
My most memorable sporting moment is … 
Spectating: Liverpool beating AC Milan in 2005 to win the UEFA Champions League.
I am happiest when … 
With family.
The sports person that best represents me is … 
Frederik Fetterlein (Danish Tennis player... worth a google).
The three things at the top of my bucket list are …
1. Complete an Ironman for the charity MIND
2. Learn a (new) language
3. Work with the NFL
A quote I try to live my life by is … 
"Life is as good as the memories you make."
All author posts