Times have been tough for journalists for a while now but with so many titles like Buzzfeed, The Guardian and Q magazine contracting during the pandemic, the career has been made unsustainable for many. When a former colleague of mine contacted me recently for advice on changing careers from journalism to marketing, I decided I'd write an article to share some things I learned.
While formulating this article in my head, I realised the advice I have falls into two camps: the new marketing skills you need to learn, and on the other hand, the journalism skills you need to keep hold of.
It took me a while to remember to do the latter. Switching careers can be all consuming. You can expend so much energy trying to absorb the knowledge of those around you, that you risk forgetting to use the essential lessons you learned in your former life. It's important to keep hold of these because they are what makes you unique in your new role.
I began my leap 10 years ago, after leaving the football magazine FourFourTwo, to work with Puma at the 2010 Africa Cup of Nations in Angola. It was one of the greatest work experiences of my life and I was hooked by the experience. Access to the talent was incredible and I'll never forget the thrill I felt on the team bus with Michael Essien's Ghana as they rode home singing their uplifting songs.
But it was the ambition of brands that really hooked me. The content they made just felt so much bigger. Beautiful films, emotional stories, incredible soundtracks. After that I felt I couldn't go back to print. For a few years after that after that, I worked with the likes of Saatchi & Saatchi, WorkClub and Frank, producing digital content for brands, but it wasn't until I joined Dare in 2013 that I really started my education in agency life.
I was signed as editorial lead for Barclays's sponsorship of the Premier League. At that time, I was treated very kindly and a little like I was a rare and unusual beast. No one was quite sure what to make of me or what I was capable of. I had come from Sabotage Times, James Brown's hit online magazine, and my challenge was to see if I could apply some of that earned media alchemy to Barclays.
From my point of view, I felt like I had landed on another planet. I didn't understand most of what was being said in meetings and was clueless about Powerpoint – which pretty much made me an illiterate in agency circles. I was running on panic-fuelled adrenaline every single day.
At the time, Dare's sage Partner John Owen asked me to write a piece about the difference between being a journalist and a marketeer – but in truth, I was probably too close to it all to really observe it back them. To be honest, for some time I felt like a stranger in a strange land – and hoped no one would notice.
However, I feel I am now qualified to share some advice to anyone looking to make the switch having produced successful work for the likes of adidas, The FA and Continental in recent years. As well as creative campaigns, since joining the brilliant sports marketing agency Redtorch, for the International Skating Union and The International Equestrian Federation.
So, in a tribute to the recently departed Buzzfeed, I have decided to share my thoughts in listicle format:
3 Marketing Skills You Need To Learn
When I joined Dare, I found myself drowning in acronyms: ROI, CRM, NPS. While everybody else was nodding their heads wisely, I was desperately Googling their meanings. I felt like a language student, attempting to learn a new language by living in a foreign country. You can save yourself some of the stress by picking up a simple phrase book. I found Epic Content Marketing by Joe Pulizzi a good place to start.
It became pretty clear to me pretty quickly that if you can't communicate your ideas in PowerPoint then you might as well not have any ideas at all. If you want to be to make anything, first you need to comfortable presenting your concepts in PowerPoint or Keynote.
3. Work Out Which Side You're On
It has taken me quite a while to decide whether I sit in the creative or the strategy camp. When I arrived at Dare, no one quite new which side to put me. Eventually, I discovered the job title creative strategist which seems to work for journalists who can not only create stories but also plan them. Some content agencies may have a special place for editorial folk but if you want to go fully native, you may need to decide whether you're a strategist or a creative. You may well be both – so spend some time with both sides to determine which suits you better. It's all about finding how your brain works and what gets you out of bed in the morning.
3 Journalism Skills You Need To Retain
In journalism, they say, you have two audiences to satisfy: your readers and your editor. In marketing it's a little more complicated: you have the creative and strategy directors, the account director, the project manager, the client, their boss, the bottom line, and, finally, the customer. Marketing can be more complex as a result of this. It's not often not enough just to have a good idea. That good idea has to satisfy all of these demanding masters. Often, the final audience, is the one who has the least clout in these conversations. As a former journalist, it's your duty to stand up for them and ensure that content created will make a genuine difference to their lives.
Storytelling has become a cringeworthy buzzword of late, but good journalists are genuinely skilled in this department. The ability to harness a meaningful headline, angle and narrative to a campaign will help it resonate with its target audience and deliver free PR.
You may have to learn to speak marketing to be understood inside the agency walls but it's so important to retain your ability to communicate like a human being beyond them. Journalists are proudly anti- cliché of all kinds, especially business jargon so if you want to retain your mastery of the English language to persuade, inspire, entertain and inform then please, please never 'reach out', 'share take-aways' or 'take it offline'.
3. Get Under The Skin Of A Subject
One of the things I have always truly admired about freelance journalists is their resourcefulness. In truth they often behave as one-person agencies: from finding their clients, selling in the work and then producing it single-handedly. But it's their ability to become experts in a topic in record time that remains an invaluable skill in marketing. Understanding the client, the market and the customer are essential ingredients to any idea worth its salt.
This ability to deep dive into new worlds is just one of the reasons journalists can make great marketeers. So, if you are looking to take the plunge, my advice is: come in, the water's lovely. I've never regretted switching careers, although of course, there are always ups and down. The key, I think, to success is about finding the right role and the right people that help you to keep learning and shining.
Thanks must go to the following people for my ongoing marketing education:
Jonny Murch, Alex Ross, Chris Argyle-Robinson, Katy Woodrow, Thomas Henry, John Owen, Sean Thompson, Ryan Reddick, Jack Brough, Vassilios Alexiou, Flo Heiss, Brian Cooper, Matt Simpson, Jonathan Simmons, James Freedman, Gina Roughan, Chris Gibbons, Adam Reed, Nicholas Hutchings, Andrew Bloch, Magnus Djaba, Matt Groves, James Brown, Regis Menoux, Johan Adammson, Tim Stedman and Andrew Szwajkowski.
---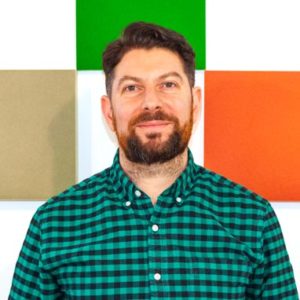 My most memorable sporting moment is … 
Scoring a goal at The Emirates. I think you can probably see how much it meant to me from my reaction.
I am happiest when … 
Having adventures in the countryside with my family, whether it's canoeing, wild swimming or camping.
The sports person that best represents me is … 
Former Arsenal midfielder Mathieu Flamini. Loads of effort and enthusiasm plus an awful lot of pointing.
The three things at the top of my bucket list are …
1. Whale spotting
2. Northern Lights
3. River vs Boca
A quote I try to live my life by is … 
"Hard work beats talent when talent doesn't work hard." – Tim Notke
All author posts