We caught up with Luca Fasani, FINA Digital Manager, to find out how they topped the Facebook rankings of this year's #SportOnSocial League Table.
Luca Fasani, Digital Manager, FINA
A big congratulations for ranking Number 1 on Facebook in this year's #SportOnSocial League Table. What has been the key to your success on the platform?
Our success on Facebook is the result of a new digital strategy implemented right before the Tokyo 2020 Olympic Games. With specific regard to Facebook, we keep reviewing how we produce digital content to intercept the latest trends and changes in the algorithm. It's an ongoing process that aims to provide the right content at the right time.
Facebook is still the social media platform with the largest global community and its target audiences continue to be very attractive for many businesses. I am confident that the META ecosystem will keep offering a wide range of solutions for sport entities to engage with multiple audiences.
Holding a solid presence on Facebook today is a good starting point for the future digital transformation of FINA.
What tactics have you put in place to receive such high engagement rates on Facebook?
The 2021 season was the first real 'comeback' after the pandemic; our athletes were finally back to compete after such a difficult period. It was the first time we could finally talk about what we know best: our six aquatic sports.
FINA mainly focused on two assets: sport data and video clips.
While for all sport data content it was essential to be reactive and post as soon as an event took place, for visual content we were aware that high-qualitative videos can become viral even months after posting.
This was a key finding for our success at the Olympic Games: despite having very limited access to video content from the Games, most of our video clips posted months before and during the Tokyo 2020 qualifying events became incredibly successful.
Millions of organic likes, comments and shares on FINA posts showed that our content was very much appreciated. Moreover, our fans found it interesting to reshare and let the world know what was going on before, during and after the events.
Several posts from your Epic Flashback campaign performed very well. Is this something FINA plans to continue, and why do you think fans engage well with this content?  
The Epic Flashback campaign has been very successful during the pandemic. In such a particular time without new events going on, we decided to pick the best moments from our past events and spread them alongside a positive message for our fans.
The fact the epic flashbacks are still attractive means our message was well received, but it's now time to move on and plenty of new epic moments will feature in the 2022 season.
In the second half of 2021, we also introduced new video formats to feature athletes under a different perspective; great comments were shared for our video production at the FINA World Swimming Championships 2021 in Abu Dhabi.
How did

Tokyo 2020

benefit your social media performance and what learnings did you take that you can apply to future

campaigns

?

 

 
We knew that the Tokyo 2020 Olympics Games would have had a positive effect by amplifying our reach and enabling our content to be seen by a wider audience around the world.
The Olympic Games are a global event and every sport business benefits from this special edition in Tokyo. Sport lovers were eager to see our athletes compete, celebrate, cry, and eventually become legends. Athletes are the real protagonists of our sport, and their stories represent the ideal narrative for a successful message to be spread on social media.
My takeaway from Tokyo 2020 is that we did well, but we could have done even better. The potential of this event and its capacity to bring people together is massive and we are already looking forward to Paris 2024.
Does FINA have any tactical changes lined up for its social media strategy? 
FINA is going through a process of reforms and the digital transformation is one of the main pillars. I wouldn't talk about changes, but additions and brand-new projects that will impact our social media strategy as well.
We want to collaborate more and better with our athletes; as mentioned, they are at the heart of our content production but we also look forward to more engagement with our National Federations in the near future.
Check out FINA's Facebook page here.
---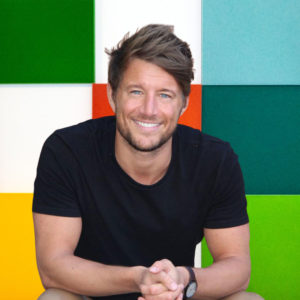 I'm a sport-obsessed film lover with a passion for evidence-based marketing. I'm proud to own an agency that's become one of the most trusted in world sport.
My most memorable sporting moment is … 
Spectating: Liverpool beating AC Milan in 2005 to win the UEFA Champions League.
I am happiest when … 
With family.
The sports person that best represents me is … 
Frederik Fetterlein (Danish Tennis player... worth a google).
The three things at the top of my bucket list are …
1. Complete an Ironman for the charity MIND
2. Learn a (new) language
3. Work with the NFL
A quote I try to live my life by is … 
"Life is as good as the memories you make."
All author posts