Whatever your marketing ambitions, this trusted framework will help deliver results and provide the platform for incredible creative.
I've been thinking a lot about the Hero Hub Help content strategy lately. The YouTube content strategy model has always been a remarkable and versatile tool for helping improve communications, whether for a campaign or always-on content.
But what has struck me is not only the framework's longevity but it's lack of detractors and even competitors. You just don't find strategists writing blogs screaming 'Hero, Hub, Help is dead'. I know, because I've been searching for them.
Of course some people have attempted to repackage it as their own: I've heard of various fantastically named incarnations including 'Bonfires and Fireworks', 'Rumble and Roar' and even the gunslinging 'Aim Wide, Hit Tight'.
The truth is that like cockroaches following a nuclear war, the Three Hs is indestructible. Unlike cockroaches, this content model is extremely valuable to anyone who wants to achieve their marketing goals. Cockroaches, on the other hand, are completely useless for this purpose.
In case, you've not encountered it before, here's how it works. By segmenting your content into three strands: Hero, Hub and Help you can achieve your marketing goals. If marketing is all about helping your target audience to get to know you, to like you, and to trust you. Then Hero gets them to know you, Hub gets them to like you and Help builds that all important trust.
Your Hero content is the big-ticket item that drives fame. It sits at the top of the funnel attracting new fans or customers. This could be an inspiring campaign launch film, a must-watch live show or a stunt. The key is that it should make people feel strong emotion – because that's what will inspire them to share it and will deliver your reach.
The Hero film Redtorch produced for the Fédération Equestre Internationale #ForTheLoveOfEquestrian was created to engage fans during Lockdown. Narrated by Hollywood star and equestrian influencer Kaley Cuoco, it pricked the senses of fans reminding them of all the precious things they missed about the sport. Shared with her followers as well as FEI channels and global sports media, the video was watched over three million times in 72 countries. Just by reading some of the comments, it's clear that the film achieved its goal because it made a genuine and authentic emotional connection.
Next is the Hub. That's serialised content that keeps your audience engaged over time and brings them back to you for more. This is how your build a meaningful relationship with new and existing fans. Whereas the Hero content is about attracting a new audience, your Hub is all about retaining them and communicating a deeper understanding of who you are and what you stand for.
Hub content can come in the form of blogs, podcasts or a video series. For the International Skating Union, our #UpAgain campaign was aimed at inspiring athletes and fans to overcome life's challenges in order to reach their potential. Our Hub content was a video series called My #UpAgain Story in which the sport's greatest athletes told their personal stories of how they picked themselves up from their lowest moments. These emotional narratives tackled themes such as battling mental health, recovering from injury, coping with defeat and the loss of a family member. The films were shared by ISU and the athletes themselves, tapping into the stars as media channels in their own right. The stories' newsworthy nature also meant they were picked up by global sports media. To mark World Mental Health Day BBC Sport shared our film with Team GB's Elise Christie on their homepage delivering ISU incredible levels of free media.
The final piece of the puzzle is Help content – also known as Hygiene because, like a clean pair of underwear, it should be always on. This is high volume, low budget content that answers your audience questions about what you offer and how you can help them. Whereas Hero and Hub content is pushed towards your audience via the likes of influencers, paid and earned media, Help content pulls them towards you through search.
For the ISU Skating Awards 2020 we produced content pre, during and post the event to ensure that fans had the information they needed to get the most out of this online extravaganza. This included details of how, where and when to watch the event that drove them to ISU's website or YouTube channel. We provided details of how the panel's voting worked to ensure fans understood the judging process. Finally, we announced the winners in each category immediately on the website and on social so fans would get the news first from ISU channels. Thanks to this approach, the awards achieved fantastic results including 181k livestream views, 547k engagements and four million video views and one very happy client.
Sometimes it may be tempting to skip one of Hero, Hub, Help. However, the strength of the strategy lies in the connection between each layer of the funnel. After all, if you want people to trust you, don't they need to get to know you and like you first?
If you'd like to find out more about how the Hero, Hub and Help strategy could help you, why not drop us a line? 👉 hello@redtorch.co.
---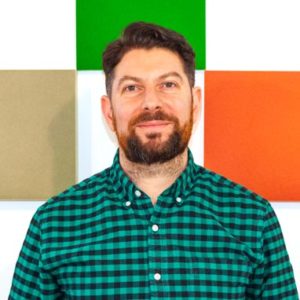 My most memorable sporting moment is … 
Scoring a goal at The Emirates. I think you can probably see how much it meant to me from my reaction.
I am happiest when … 
Having adventures in the countryside with my family, whether it's canoeing, wild swimming or camping.
The sports person that best represents me is … 
Former Arsenal midfielder Mathieu Flamini. Loads of effort and enthusiasm plus an awful lot of pointing.
The three things at the top of my bucket list are …
1. Whale spotting
2. Northern Lights
3. River vs Boca
A quote I try to live my life by is … 
"Hard work beats talent when talent doesn't work hard." – Tim Notke
All author posts