Joseph Villeflayoux, Marketing & Communication Director at Hurricane Group shares his thoughts on how innovation helped FISE overcome the challenges faced by COVID-19.
For people who don't know, what is FISE?
Jo: FISE is a world action sports festival, created in 1997 by Hervé André Benoit when he was a student. Gathering many of the alternative sports disciplines together, it was made to celebrate what links them, such as Freestyle and Freedom values.
Year after year, FISE continued to grow and quickly became an unmissable event for the whole urban sports community. 24 editions later, the event has become a World tour, a European tour and a French tour, which all take place in dynamic cities and feature contests that embody the soul of the riders.
The biggest event of the year is the 5 day festival FISE Montpellier, which brings together more than 2,000 riders in 12 sports, joined by 600,000 fans and all the key players from the industry. Major international federations, public partners and sponsors, everyone is welcome to be part of the development of action sports.
What were your immediate concerns for FISE when the world went into lockdown?
Jo: Since the beginning of the lockdown, our biggest priority was finding a way to maintain the link between: fans, riders, international federations and partners during a time where we weren't able to physically gather at events. Our goal was to be able to continue to connect the community, but also maintain the real emotion that's felt at our events.
FISE events are not limited to competitions, all of them, even the smaller stops, are designed as festivals that mix contests with activities that share the alternative culture and lifestyle of these sports. So the team had to design a platform that could reproduce this unique concept, in a fully digital way.
The main motivation was to create a place where riders could wow crowds with their astonishing tricks, while being powered by the fans support, and at the same time give an opportunity for partners to be associated with these sports values.
As a result of COVID-19, FISE World Series 2020 didn't take place. What did you do in its place?
Jo: After much reflection and many meaningful exchanges to try to build an event that could match with safety restrictions imposed by COVID-19, we decided to switch to a fully digital concept for the 25th edition of FISE Montpellier.
Lead by the health context but also taking into account the financial and sports stakes, we wanted to offer a concept that would continue to support all those who have built FISE history, and who keep on pushing it forward. This year, the event was hosted on e-fise.com, with a brand new competition format and a fully digital festival, this experience offered an edition as exceptional as the traditional one. Even if this transformation encountered many challenges, it's a radically innovative event concept which placed Hurricane Group as pioneer of this strategy.
How have you delivered value to your partners during a time with no live events?
Jo: This brand new E-FISE event concept was the biggest competition of its kind in the world, boasting entries from 85 countries and a prize pool of over €150,000. It pushed creative and technological boundaries, and met huge results with 179.7 million fans potentially seeing E-FISE content, 1,314 video entries submitted by pro and amateur athletes, 3,943,317 E-FISE website page views and 502,300 fan votes. Inspiring millions of fans worldwide, sponsors were placed not only at the heart of action sports, but at the heart of sport.
This innovative campaign generated high brand engagement, so E-FISE demonstrated the unparalleled power of digital platforms to generate high reach with current/potential fans and consumers. The unique and inclusive mix of competition, culture and lifestyle engaged the action sports community like never before.
Will FISE be different in a post-COVID world?
Jo: Even if we can clearly anticipate many changes in a post-COVID world, our mission remains the same. Since its creation, FISE has been committed to the development of action sports, by promoting them to massive audiences, introducing them in to popular culture and creating vocation among the youth generation. However, even though our vision remains the same, it's almost certain that we have to adapt our methods if we want to keep on pushing action sports forward.
Gathering 600,000 people in a city center for a 5 day festival will potentially not be possible again soon, but our team is currently working on event concepts that can combine physical and digital aspects. There is no way we can anticipate the ongoing situation, but the best we can do is to remain extremely motivated and devoted to do what we do the best : adapt and create to spread the action sports soul.
What are the priorities of FISE over the next 6 months?
Jo: Our main priority is to continue our digital growth. We are already working on the concept for a 2021 E-FISE edition and we hope to reproduce the successful aspects of the 2020 e-event and combine them with fresh ideas and activations that offers a new experience next year. Honestly, this is truly exciting but organising physical festivals still really matters to us. At the same time, we are thinking about several ways to maintain real events, even if we have to adapt the standard.
E-FISE success proved to us that our fans are really seeking for real emotion, and we are extremely concerned about our responsibility to provide that to them. At home with a digital format or in cities all around the world, we are commited to bringing action sports to our communities. This is also important for riders and counterparts, which are also seeking for opportunities to be involved in this process.
There's been very positive news recently about a vaccine for COVID-19. How would this affect FISE?
Jo: Well it's a very hopefull outlook, for the sport industry and major events organisations. It's sending a very positive message, but we have to be aware that "regular life" will not be back straight away. We can anticipate a kind of inertia, so that's why we are currently adapting our projets for the early 2021. Anyway, we are getting ready for what ever the future holds.
In one word, describe the past 8 months...
---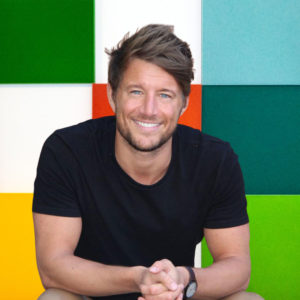 I'm a sport-obsessed film lover with a passion for evidence-based marketing. I'm proud to own an agency that's become one of the most trusted in world sport.
My most memorable sporting moment is … 
Spectating: Liverpool beating AC Milan in 2005 to win the UEFA Champions League.
I am happiest when … 
With family.
The sports person that best represents me is … 
Frederik Fetterlein (Danish Tennis player... worth a google).
The three things at the top of my bucket list are …
1. Complete an Ironman for the charity MIND
2. Learn a (new) language
3. Work with the NFL
A quote I try to live my life by is … 
"Life is as good as the memories you make."
All author posts