Instagram is one of social media's most versatile platforms.
It offers 3-platforms-in-1 with (1) a main feed (2) Instagram Stories and (3) IGTV. This versatility presents both opportunities and challenges. When planning our content, how can we best divide it between the three platforms?
Here's our approach…
1. Instagram Main Feed: timeless content
We don't use the Instagram main feed to post real-time match updates. Our feed is a place to tell stories and display key art – it needs to feel timeless.
Content that works really well isn't always tournament specific – value-led content also hits the mark and taps into the World Rugby ethos: e.g. Players interacting off the pitch, sharing a beer and swapping shirts.
2. Instagram Stories: player-led content
Instagram Stories is predominantly about behind-the-scenes content during events. The ultimate insight for fans? Putting the phone into a player's hands and letting them take over. This tactic drives high engagement and creates content we can't get from anywhere else.
The recent Rugby World Cup is a great example of this approach in action – especially as in Japan players are treated more like the sort of superstars associated with the NBA and NFL. Forget graphical templates. Hearing from a winning captain immediately after a game is the best way to convey emotion and atmosphere; it breaks down barriers between World Rugby followers and players – strategically that's the sweet spot!
Using voting mechanisms is also a real driver of engagement – especially when there isn't a current match or tournament. For example, our successful knock-out at the end of 2019 led to fans choosing New Zealand's Dan Carter as fan's player of the decade.
3. IGTV: long-form content
IGTV is our YouTube equivalent for long-form content. We include highlights and coverage from press conferences – and at our top-level tournaments we always apply subtitles in multiple languages to give fans the best possible user experience.
A final thought: optimising resource to achieve full impact
We put heavy emphasis on multi-language content. Growing our four core language channels – English, Spanish, French and Japanese – is a key World Rugby objective.
Four languages, three Instagram platforms, different tournament accounts… it all becomes a pretty big pull on resource!
We meet regularly with our social community managers based in the UK, Argentina, France and Japan. These experts work closely with camera operators and content production agencies to create bespoke content from live events.
During Rugby World Cup 2019, tournament-specific content sat predominately on the Rugby World Cup account. Additional content giving in-depth insights into the players sat on the World Rugby account. And sometimes, to manage the challenge of serving content to fans across different time zones, we'd duplicate content on both accounts at different times.
Always at the forefront of our mind? 'How can we localise this?'. Think 4 languages, not 1.
Photo credit: rugbyworldcup.com
#SportOnSocial League Table 2020
We spoke to World Rugby to gather insight into the success of their 2019 Instagram strategy ahead of the reveal of the #SportOnSocial League Table 2020.
The #SportOnSocial League Table 2020 ranks 35 IOC-recognised International Federations (IFs) according to their social media performance in 2019 (data collected 1 January to 31 December 2019).
The #SportOnSocial League Table 2020 & Report will be released on Thursday 19 March!
To receive a digital copy of the report, please join our mailing list below.
---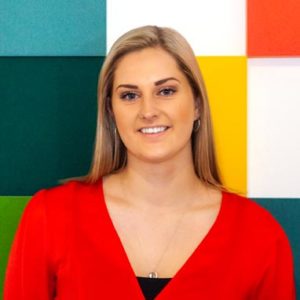 I am a food-loving, dog-appreciating, hockey player.
My most memorable sporting moment is…
Full on face planting on the Spine Ramp at FISE Montpellier in front of a crowd of 6,000 people and a load of professional Skateboarders...
I am happiest when …   
I have food in my mouth.
The sports person that best represents me is …  
Kate Richardson-Walsh.
The three things at the top of my bucket list are …
1. Travel around China and Japan
2. Meet Trixie Mattel
3. Learn a second language
A quote I live my life by is …  
"They say I'm the Hottest MC in the Game. If you label me that, I will live up to it. Trust me." – Lil Wayne.
All author posts