There's a potpourri of personalities, expertise and interests here at Redtorch. But the one thing we all have in common? We love sport.
Here's what Team RT said when asked,
'If you could play only one sport for the rest of your life, what it would be and why?' …
Who:   Chris Argyle-Robinson, Strategy Director
Sport: Surfing

Come rain or shine, nothing beats being out on the ocean. By myself or with family and friends, surfing always brings a smile and a sense of calmness.
Who:   Jess Reus, Project Manager
Sport: Hockey

If my body doesn't fail me in old age, I would choose hockey (field, that is).  You can play in any weather, and it gets my heart racing. It's when I'm my most competitive and gives me the chance to get out all my aggression.
Plus, it's super social-able on and off the pitch. It's where I've found my closest friends – the hockey lot are a good bunch!
Who:   Matt Weiner, Creative Director
Sport: Football
When I'm playing football, I'm able to forget everything else and be entirely in the moment. It's my meditation.
Who:   Jacqueline Darby, Project Manager
Sport: Tennis
Tennis is sociable and can be played at any age. It's amazing to play in the summer and have a few drinks after with friends, but is enjoyable in the winter, too! It doesn't have to be competitive if you don't want it to be, and it's a good way to stay in touch with friends (as well as a great sport to meet new people).
Who:  Joritse Onuwaje, Digital Insights Analyst
Sport: Football
You can play football anywhere, you just need a ball. It's sociable and always good fun.
Who:  Ollie Davis, Head of Research and Insight
Sport: Golf
Golf is social and will keep me active. I also like that it's outdoors and provides opportunities to visit new places.
Who:   Amy Marshall, Social Media Editor
Sport: Equestrianism
Equestrianism is a lifestyle and a sport, where you can relax or compete individually and as part of a team. It also teaches responsibility and commitment.
Who:   Jonny Murch, CEO
Sport: Tennis
I love running, but my sport for 'life' would be tennis. It's such a great social game. My parents are 73 and 75 and still play three times a week, lunching or BBQing with friends afterwards. If I were to remain mobile and injury free, running would challenge tennis …
Who:   Ginger Wang, Designer
Sport: Swimming
I feel totally relaxed when I'm swimming. The freedom in the water helps me forget about everything else.
Who:   Emma Shadbolt, Senior Social Media Manager
Sport: Equestrianism
There are so many different aspects of the sport. It's diverse, boosts mental and physical health, and teaches responsibility and trust. It's also a great way to make life-long friends (people and ponies). Ponies 4 eva!
Who:   Kirby O'Donnell, Social Media Manager
Sport: Tennis
I've got Jess to thank for rediscovering my love for tennis! It's a sport you can play at any age, with anyone, no matter your ability. Whether you're playing socially or competitively, it's guaranteed fun.
Who:   James Fazackerley, Senior Consultant
Sport: Cycling
Cycling is a great way to discover new places, and it's easy on the joints!
Who:   Alex Ross, Director
Sport: Golf
I hope to play (badly) until I'm at least 85. To quote Greg Norman, "Happiness is a long walk with a putter."
Who:  Justine Hembury, Director of Operations
Sport: Tennis
Tennis is perfect for any age group, young and old. It's invigorating, entertaining, thought-provoking, athletic, and great fun no matter how frustrating at times!
---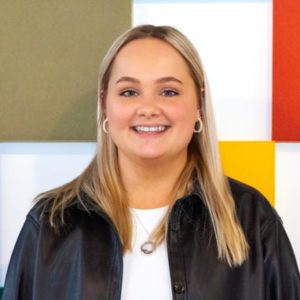 Northern Irish, sport-obsessed and probably the most competitive person you'll ever meet.
My most memorable sporting moment is ...
Any time my local football team Glentoran beat their rivals Linfield.
I'm happiest when...
Watching sport surrounded by friends and family, with a glass of red in hand.
The sports person that best represents me is...
Billie Jean King.
The three things at the top of my bucket list are...
1. Meet Rafa Nadal (love of my life)
2. Watch Ireland win a Rugby World Cup
3. Own as many dogs as possible
A quote I try to live my life by is...
"Change the way you look at things and the things you look at change" - Wayne Dyer
All author posts