Heinrich Popow, Liaison Manager at Ottobock, shares his thoughts on how the Worldwide Paralympic Partner is committed to making history at next year's Paralympic Games in Tokyo.
For people who don't know Ottobock, what does it do?
Heinrich: Ottobock is an innovation leader in prosthetics, orthoses and exoskeletons for more than 100 Years all over the world. We help people to maintain or regain their Quality for Life. This is our Mission since 1919.
What's your role at the company?
Heinrich: My role within the company is called Liaison Manager. As a former Paralympic Athlete and Orthopaedic technician I have the role to connect the users with the industry. Let's say like this: I am an interpreter between the people who are using our products and the people who are developing the products. In this function I also advice our ambassadors in technical requirements during their Paralympics career.
What is Ottobock's involvement with the Paralympic Games?
Heinrich: Ottobock is a partner to the Paralympic Games since 1988, and an international worldwide partner to the International Paralympic Committee (IPC) since 2005.
For example: The Paralympic Games in Tokyo next year will be the 16th Games at which Ottobock provides the Technical Service. Our team, and especially our technicians, support all athletes free of charge and repair everything from competition wheelchair to daily orthopaedic equipment;  they take care of all the technical details so that the Paralympians can focus fully on their performance and the competition.
For this, we have a team of 100 orthopetic and wheelchair technicians in Tokyo, 18 tonnes of equipment and machinery for the workshop and 17.300 spare parts, including around 1,100 wheelchair tyres, 70 running blades and 300 prosthetic feet. We expect about 2.000 repairs.
Besides our partnership to the IPC and the Technical Service, we also have more than 35 athletes from different sports as our brand ambassadors throughout the whole world. We are proud to be a family member of the Para sport. This is our Passionforparalympics!
Why did you choose to sponsor the Paralympics?
Heinrich: The Paralympics movement has the same DNA that our company believes in since 1919. We love to see and support the power of sport. The athletes are super role models for all of us. It is unbelievable to see what is possible when you accept the disability and create a positive mind-set. To be part and to support the possibilities of people with disabilities is our every day's motivation.
How has your Paralympic sponsorship strategy changed as a result of COVID-19?
Heinrich: As we are still in the COVID-19 pandemic, we don't have any changes of our strategy. As a family member of the Para sports movement we know that we will go together through good and bad times.
How will sponsorship be different in a post-Covid world?
Heinrich: This is something we can't answer yet, because it is too early to see the results of the pandemic.
What are your marketing priorities for the next 6 months?
Heinrich: Keep the contact to our customers, clients and athletes throughout the digital world. We are still here for the people who need our help.
In one word, describe the past 6 months...
---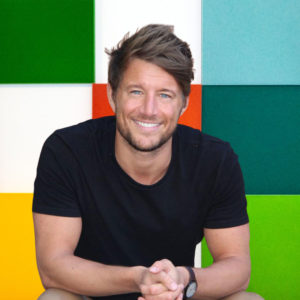 I'm a sport-obsessed film lover with a passion for evidence-based marketing. I'm proud to own an agency that's become one of the most trusted in world sport.
My most memorable sporting moment is … 
Spectating: Liverpool beating AC Milan in 2005 to win the UEFA Champions League.
I am happiest when … 
With family.
The sports person that best represents me is … 
Frederik Fetterlein (Danish Tennis player... worth a google).
The three things at the top of my bucket list are …
1. Complete an Ironman for the charity MIND
2. Learn a (new) language
3. Work with the NFL
A quote I try to live my life by is … 
"Life is as good as the memories you make."
All author posts