The International Skating Union (ISU) worked with sports marketing agency Redtorch on #UpAgain, and together created a campaign which is nominated as a finalist of the prestigious The Drum Social Buzz Awards in the Best Travel/Leisure/Sports Social Media Strategy/Campaign category. An acknowledgement from the industry of the impact and relevancy of our joint work. The winners will be announced on November 12, 2020.
The ISU launched #UpAgain in November 2019 to engage and attract fans across all four of its disciplines outside and during event time. An emotive and inspiring campaign based on one simple principle: we must overcome life's challenges to achieve our full potential. A rallying cry for all skaters and fans, to inspire them to overcome challenges on and off the ice to achieve their potential.
Through powerful messaging, inspiring athlete stories, user generated content and fan competitions, the campaign lifted the community to new heights. When the pandemic hit, events were cancelled and dreams were put on ice, which meant that #UpAgain took on a new and even more important role: to help the community through lockdown.
The campaign was adapted and a program of content was created and designed to help people thrive physically, mentally and emotionally. At a time when our community was being forced to stay apart, #UpAgain brought them closer than ever before.
"It has been a challenging year for everyone, difficult but necessary decisions had to be made, which led to the cancellation of several ISU events. It was important to find creative ways to show that we stand united as a community and #UpAgain is a simple message that everyone can relate to and get involved in" commented ISU President Jan Dijkema. "We are proud to be nominated as a finalist for The Drum Social Buzz Awards and hope the campaign gets the full recognition it deserves."

"It's very exciting that #UpAgain is a finalist of The Drum Awards," said Redtorch CEO, Jonny Murch. "The campaign continues to unite the ice-skating community and has huge potential to help grow the sport as we build towards the 2022 Beijing Winter Olympic Games."
About the International Skating Union
The International Skating Union (ISU), founded in 1892, is the oldest governing international winter sport federation and the exclusive international sport federation recognized by the International Olympic Committee (IOC) administering the sports of Figure Skating (Single & Pair Skating and Ice Dance), Synchronized Skating, Speed Skating and Short Track Speed Skating worldwide. The objectives of the ISU are to regulate, govern, promote and develop its sports on the basis of friendship and mutual understanding between athletes. Currently three ISU disciplines are included in the Olympic Winter Games program (Figure Skating, Speed Skating and Short Track Speed Skating).
For further information please visit isu.org.
Redtorch is a London-based, independent sports marketing agency made up of sport-obsessed data fanatics, strategic thinkers and creative communicators.
Known for their enthusiasm, initiative, agility and creativity, they work with organisations to deliver bespoke and data driven solutions that understand, grow and engage audiences worldwide.
For further information please visit redtorch.sport
About The Drum Social Buzz Awards
The Drum Social Buzz Awards have been running for nine years and have built up a very special reputation in terms of its prestige and positioning in the market. These awards are an international competition, celebrating the most effective social media strategies over the past year.
Everyone claims to 'do social media' but the experts know that it takes so much more in the way of creativity, innovation and smart planning, to get results. These awards were created to celebrate those who were pushing boundaries and cleverly using social as part of the overall marketing mix.
The international competition is open to anyone who can demonstrate that they are producing innovative, creative and most importantly, effective events.
---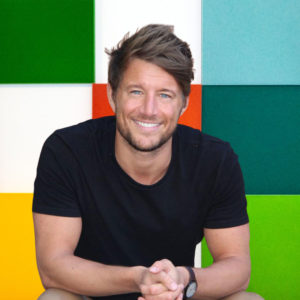 I'm a sport-obsessed film lover with a passion for evidence-based marketing. I'm proud to own an agency that's become one of the most trusted in world sport.
My most memorable sporting moment is … 
Spectating: Liverpool beating AC Milan in 2005 to win the UEFA Champions League.
I am happiest when … 
With family.
The sports person that best represents me is … 
Frederik Fetterlein (Danish Tennis player... worth a google).
The three things at the top of my bucket list are …
1. Complete an Ironman for the charity MIND
2. Learn a (new) language
3. Work with the NFL
A quote I try to live my life by is … 
"Life is as good as the memories you make."
All author posts