There are two fiercely fought competitions during every Olympics. One is played out on our TV screens and features the world's greatest athletes; the other is played out on social.
This is the contest for eyeballs not medals.
The rules of this game are challenging. Because the IOC sells Olympic video rights, International Federations cannot play highlights. Instead, they compete with one arm behind their backs, armed only with their creativity.
During Tokyo 2020, Redtorch helped its clients win on social by delivering innovative video tactics to delight their fans. Here are a handful of our favourites.
1. animated highlights
During FEI's We Don't Play Campaign every equestrian gold medal winning moment was celebrated with a beautiful rotoscope animation. These 15-second Olympic masterpieces needed to be delivered within 12 hours of the medal so three animators worked on them at once.  Each one featured the unique We Don't Play look and feel, exclusive commentary by the sport's very best pundits and an emotional soundtrack that left fans utterly captivated.  
View this post on Instagram
2. user-generated
If you don't have video content from your star athletes, why not get your fans to supply it instead? When BWF asked Redtorch to help bring fans and athletes closer together during Tokyo 2020, we created the #RaiseARacket campaign. Fans were invited to make and share videos of them raising a racket in support of their heroes. Having a low barrier to entry meant that anyone could participate. The results proved overwhelmingly positive as fans of all ages took part around the world. The campaign delivered 13.2million engagements and prompted. Owen Leed, Commercialand Communications Director to say: "#RaiseARacket was awesome. Simple." 
3. press conferences
For UCI, we turned press conferences into an artform. By combining the audio from the athlete interviews with the greatest sports images available we were able to tell the stories of the races from the perspective of the stars themselves.  The result was hugely compelling and emotional storytelling that brought fans closer to their heroes than ever before. One outstanding story that captured the public's imagination was of Anna Kiesenhofer, the amateur cyclist and mathematician that blew the competition and herself away with her unexpected gold medal victory in the women's road race.  
4. surprise and delight
Fans couldn't go to Tokyo, so we decided to bring Tokyo to the fans. Olympic equestrian legend Tina Cook and her horse Billy the Red visited inner city riding school Ebony Horse Club to inspire the next generation. Not only did she give them a masterclass in jumping in their own backyard but then took them for a surprise hack through the streets of London. The result was an inspirational film that showed how the Games inspires the next generation of athletes and resulted in incredible global PR, millions of video views and some very, very happy kids. 
5. co-creation
During the Games, we took our TikTok game to another level for UCI. We co-created content with some of the biggest names in entertainment to produce content that spoke to an entirely new audience. There was a roulette duet between rapper KSI and BMX rider Matt Wilhelm, a high–scoring SuperMario x Logan Martin collab and a Bruno Mars Challenge that transformed cycling into a heart–wrenching music video. As with all the best Tik-Toks, it's hard to do them justice with mere words so just head over to the UCI TikTok page to get a flavour of the craziness happening there.  
---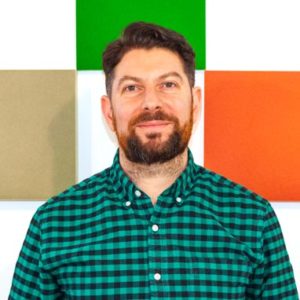 My most memorable sporting moment is … 
Scoring a goal at The Emirates. I think you can probably see how much it meant to me from my reaction.
I am happiest when … 
Having adventures in the countryside with my family, whether it's canoeing, wild swimming or camping.
The sports person that best represents me is … 
Former Arsenal midfielder Mathieu Flamini. Loads of effort and enthusiasm plus an awful lot of pointing.
The three things at the top of my bucket list are …
1. Whale spotting
2. Northern Lights
3. River vs Boca
A quote I try to live my life by is … 
"Hard work beats talent when talent doesn't work hard." – Tim Notke
All author posts