Redtorch has partnered with the Badminton World Federation (BWF) on its Tokyo 2020 campaign, #RaiseARacket.
Redtorch has created  the campaign strategy for this activation to  grow BWF's digital audiences and increase audience interest in playing badminton.
"We're very proud of our #RaiseARacket campaign for #Tokyo2020," says Owen Leed, Commercial and Communications Director, BWF.
"We are raising a racket to all the players, teams, support staff, officials, volunteers and fans within the badminton family. We want to make the Tokyo 2020 Olympic and Paralympic Games the most memorable yet"
Without its usual access to content, how can BWF keep audiences engaged during the Olympic and Paralympic Games?
At #Tokyo2020, athletes will miss the essential part of live sport – fan support BWF wants to invite badminton fans to raise their racket in support of the sport and the athletes they love, helping to inspire them to do their absolute best for their nations.
Campaign Aims
• Attract new badminton fans to join BWF digital channels
• Inspire those watching at home to pick up a racket and participate in a UGC challenge
#RaiseARacket aligns with BWFs core values to deliver spectacular event entertainment, drive fan engagement, create innovative and sustainable development and ultimately maximize outcomes for the sport.
Tactics
• UGC Campaign: Asking fans to #RaiseARacket in support of their favourite Olympic badminton stars. Fans submit a picture or video of themselves raising their racket.
• Athlete involvement: Badminton stars raise their racket to salute fans both on TV and social. Raising your racket becomes a universally recognised hand sign.
• Social Activation: Celebrating performances of players and national team by creating a social carousel in form of photos, videos, social posts, and reaction gifs.
• Press and publicity: To raise awareness of the campaign by breaking as many Badminton Guinness World Records as possible.
• Digital Activation: Fans turn their Google Homepage into a BWF news Hub with wallpapers, social feeds and news stories from the Olympics. Every click raises money for Shuttle Time, a charity launched by BWF in 2012. With the aim to support the principle that children should lead a healthy and active lifestyle through a school Badminton programme.
See how people from all over the world come together to be part of this Campaign.
Find out how Redtorch can help create an innovative campaign for your organisation… email us at hello@redtorch.co
The Badminton World Federation (BWF) is recognised by the International Olympic Committee (IOC) and the International Paralympic Committee (IPC) as the world governing body for badminton. The International Badminton Federation (IBF), as it was originally called, was established in London, on 5 July 1934 with nine founding member associations. The BWF is a federation of 196 members.
Redtorch is an award-winning digital marketing and communications agency trusted by the biggest brands, rights holders and sponsors in sport. We provide data-driven insights and creative solutions to deliver digital and social outcomes that matter to our clients.
---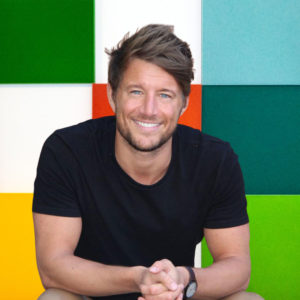 I'm a sport-obsessed film lover with a passion for evidence-based marketing. I'm proud to own an agency that's become one of the most trusted in world sport.
My most memorable sporting moment is … 
Spectating: Liverpool beating AC Milan in 2005 to win the UEFA Champions League.
I am happiest when … 
With family.
The sports person that best represents me is … 
Frederik Fetterlein (Danish Tennis player... worth a google).
The three things at the top of my bucket list are …
1. Complete an Ironman for the charity MIND
2. Learn a (new) language
3. Work with the NFL
A quote I try to live my life by is … 
"Life is as good as the memories you make."
All author posts