Union Cyclist Internationale (UCI) has appointed Redtorch to manage its TikTok account during the Tokyo 2020 Olympics and beyond.
'Redtorch is delighted to deliver content for the UCI on their TikTok account. We're excited to utilise the latest digital trends, riders and influencers, technologies and platforms for a highly targeted audience.' Alex Ross, Director at Redtorch
UCI are committed to sharing their passion for the sport with as many people as possible. Using TikTok to inspire young audiences promotes the beauty of cycling, the fun lifestyle it brings and the places it takes us.
How Redtorch is supporting UCI:
diagnosis & strategy
planning & reporting
creative production  & community management
account management
Redtorch aims for UCI's TikTok content to be a mixture of content creation, co-creation and curation.
Great audience analysis achieved by the Redtorch Team. It's not always easy to understand what keeps cycling enthusiasts awake at night, and how to engage with them. Partnering with Redtorch has helped us validate our digital strategy and will provide us with the necessary insights to shape our actions in the years to come.' Adrien de Cheveigné, Head of Digital at UCI
In addition to their TikTok appointment, Redtorch is working with UCI to create social media edits from each of cycling's post-event press conferences from Tokyo.
About UCI
Founded in 1900, in Paris (France), and now based in Aigle (Switzerland), UCI is the worldwide governing body for cycling. It develops and oversees cycling in all its forms and for all people, as a competitive sport, a healthy leisure activity and a sustainable means of transport, but also a way to have fun. Its mission is to shape the future of cycling by inspiring more people to ride, by making the sport more attractive, by promoting sustainable development, and by contributing to the wellbeing of the world's population. UCI manages and promotes cycling's 8 disciplines: road, track, mountain bike, BMX Racing, BMX Freestyle, cyclo-cross, trials, indoor cycling.
For more information: www.uci.org
About Redtorch
A multi-award-winning marketing agency, Redtorch is trusted by the biggest brands in the world of sport. It provides clear, data-driven insights and creative solutions to help clients understand, grow and engage digital audiences worldwide. Redtorch has worked with many high-profile organisations in sport, including the IOC, ANOC, Longines, ICF, City of Detroit, FEI, ISU, and GAISF.
Find out more at www.redtorch.sport, Twitter/LinkedIn/Instagram/Facebook
---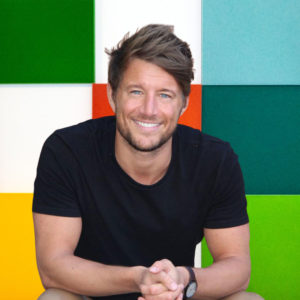 I'm a sport-obsessed film lover with a passion for evidence-based marketing. I'm proud to own an agency that's become one of the most trusted in world sport.
My most memorable sporting moment is … 
Spectating: Liverpool beating AC Milan in 2005 to win the UEFA Champions League.
I am happiest when … 
With family.
The sports person that best represents me is … 
Frederik Fetterlein (Danish Tennis player... worth a google).
The three things at the top of my bucket list are …
1. Complete an Ironman for the charity MIND
2. Learn a (new) language
3. Work with the NFL
A quote I try to live my life by is … 
"Life is as good as the memories you make."
All author posts