Why most sports now have no choice but to embrace TikTok or face losing the battle for online attention
At Redtorch, we know TikTok.
We manage clients' TikTok accounts, have built great relationships with key TikTok staff, and have an army of 'Creators' (more on this later) at our disposal whose ability to create TikTok-specific content is unmatched.
Your TikTok plan doesn't need to be complicated, but it does need to be incredibly specific to the platform. You've heard the phrase 'one size fits all'? Well, when it comes to TikTok – one size most certainly doesn't fit all. That video you created for Facebook? Won't work on TikTok. Your latest Instagram Reel? Won't work on TikTok. Your last Tweet … well, you get the idea.
While this post can't tell you precisely what your TikTok plan should be, it can tell you 10 things you absolutely have to know for it to be successful.
Ready? Let's go.
1. Ensure your content is a good mix of created, co-created and curated
You need to ensure that your content is a good mix of created, co-created and curated. What do these terms mean?
created = creating a brand-new bit of content specifically for TikTok
co-created = working together with another user to create content
curated = sharing relevant videos posted by another user – but with your own twist and using you own tone of voice
Once you've figured out the right mix of content for you, the next step is to understand the type of content you'll need. A good starting point is to put your content into 3 buckets:
lifestyle content – e.g. athlete training, equipment reviews, behind-the-scenes
sports content – e.g. interviews, highlights, trick videos
reactive content –  e.g. hashtag challenges, trending songs, viral videos
So there's an overview to get you started, and here's a little cheat sheet to work off.
2. Create and engage with hashtag challenges
Hashtag challenges on TikTok are not just a nice to do, they're a must do. What are they? A hashtag challenge is when a user sets a specific task on TikTok, and other users are encouraged to try it and share their results using the associated hashtag.
Anyone can create a hashtag challenge, but will it catch on and become the next viral sensation? Well, that's not guaranteed. This is why it's of critical importance to engage Creators, endemic influencers or athletes with your challenge; let them spread the word for you, and you'll have a much better chance of success.
3. Music is the beating heart of TikTok
Music is the beating heart of TIkTok. A bit of history: back in 2018, Musical.ly was all the rage with over 100m active monthly users. Then, almost overnight, the teen karaoke music app rebranded, and TikTok was born.
So yeah, music is important on TikTok. But be careful: you're heavily encouraged (and rewarded) if you use music from the App's library, and heavily discouraged (and penalised) if you use music from an outside source.
1.2 million views, 215.3k likes, 1,795 comments, 1,994 shares
4. You don't need an entire production crew
Extensive production crews are not required for TikTok.
The platform doesn't favour high-end production value – it's built on seeing life as it really is. Therefore, raw edits – made with the platform's own software – will work best.
So, here's a multiple choice question for you:
You've engaged your star athlete who (reluctantly) has agreed to create content for your TikTok.
Do you a) ask them to film the content themself? b.) do you film it? c) do you use that high-end production crew that creates those slick ads? Or d.) use a TikTok Creator who knows the platforms inside out, understands the app's built-in editing software, knows what content will work, and will ensure your athlete is relaxed and has fun?
The answer is … yup, D. Every time.
5. Make friends at TikTok HQ
TikTok is doing a huge amount of work to help sports organisations. Make full use of their resources and speak to them directly.
They'll help you to stay on top of the latest trends and suggest what you should be aware of/consider.
6. Capitalise on the Creator Fund
If you represent/manage athletes, this is for you.
TikTok manages a Creator Fund, where Creators receive monetary rewards based on:
number of video views
authenticity of those views, etc.
level of engagement
content is in line with Community Guidelines
TikTok has committed £231 million over the next 3 years to this Fund.
It should be a go-to for athletes who may not have large sponsorship deals and are looking for other sources of income.
The must-haves are:
at least 10,000 followers
at least 10,000 video views in the previous 30 days
2.4 million views, 588.3k likes, 5,081 comments, 2,712 shares
7. (Really) understand how to use Paid
Like with other platforms, it's easy for someone who isn't a paid media specialist (and who is probably already doing too many jobs) to effectively spray cash around on TikTok without achieving much.
Luckily, TikTok provides fantastic and free training for anyone wanting to understand the basics of how paid works on the platform.
For example, they suggest a starting point of between £200 and £300 a day, for c. 10 days so you can test and learn how effective your paid is.
Be realistic when it comes to TikTok paid media – don't touch it unless you have a proper budget to do so, and someone who knows how to manage said budget.
8. Get to grips with the algorithm
A speciality of TikTok is its unique algorithm which is built around how creative you are and not how famous you are. This mean that literally anyone can go viral. Google "the most followed accounts on TikTok" and see how many of the top 10 you've heard of.
The chances are, not many. That's because TikTok is its own ecosystem full of 'Creators' not 'influencers'. It's a place where creativity, not celebrity, rules.
So get to grips with the TikTok algorithm – what it's looking for and what content it favours so you'll be in with the best chance of your content going viral.
1.6 million views, 350.2k likes, 3,775 comments, 11k shares
9. Using TikTok Creators is essential
To give your content the biggest push, it's fundamental that you get the right Creator to work alongside any star athlete.
TikTok provides a free service, Creator Marketplace, where you can find the Creators best suited to you (by timeframe, availability and price).
TikTok gets no commission on this, it's purely for your benefit.
10. Don't obsess about how often you post
Believe it or not, how often you post doesn't determine how your content performs. Don't obsess over it, just stick with what works with your strategy.
Nonetheless, it's worth noting that your content can blow up any time. Unlike other platforms, it isn't obvious when content might go viral – a video from 6 months ago could become an overnight sensation.
Set your expectations – some content will do well, some will not. A video similar to yours might get thousands of views, but yours might not.
Most importantly, a blue tick isn't a guarantee of lots of views.
There you have it! 10 tips for success on TikTok.
It's never been a better time to reap the benefits the platform has to offer. Good luck, and if you'd like to discuss working with us to supercharge your TikTok account, email TikTok@redtorch.co and let's get started: it'll be both fun and rewarding – we promise.
---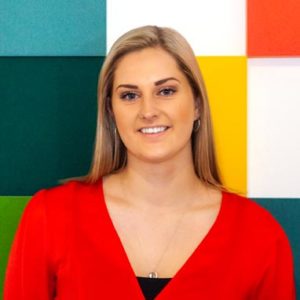 I am a food-loving, dog-appreciating, hockey player.
My most memorable sporting moment is…
Full on face planting on the Spine Ramp at FISE Montpellier in front of a crowd of 6,000 people and a load of professional Skateboarders...
I am happiest when …   
I have food in my mouth.
The sports person that best represents me is …  
Kate Richardson-Walsh.
The three things at the top of my bucket list are …
1. Travel around China and Japan
2. Meet Trixie Mattel
3. Learn a second language
A quote I live my life by is …  
"They say I'm the Hottest MC in the Game. If you label me that, I will live up to it. Trust me." – Lil Wayne.
All author posts