If you work in marketing, you should analyse The Masters.
Golf's nirvana returns this week. Yet again, it will forego millions in TV and sponsor revenue ($269 million according to Forbes.)
One of the things I love about The Masters is the lack of almost any visible advertising. It's like golf's version of Wimbledon: a throwback to a bygone era where the focus is on the sport itself.
Here are a few thoughts to keep in mind as you navigate the ever-changing landscape of brand relevance.
But why leave all this short-term annual revenue on the table?
Why opt for one-year TV contracts rather than committing to multi-year deals that are undoubtedly more lucrative?
The tournament's international TV rights are sold for a (relatively) measly $25m. Put in perspective, The US Open – another golf major – generates $93m in domestic TV rights alone.
Why not bring onboard more sponsors (they only have 6) and why not allow on-course branding?
There's a simple answer – long-term brand building (mass audiences) has been balanced with short-term activations (targeted sales).
To reference Mark Ritson: they've put down their tactical tools and done proper marketing.
Specifically: research, strategy, tactics … in that order.
The Masters clearly understands the market, their position in it, and how to tactically execute against that positioning.
However, given the confusion that surrounds the concept of positioning, what does this actually mean?
To me, positioning/purpose should be kept as simple and clear as possible. It should pass the 3 Cs test (borrowed from Ritson):
1.    does the customer want it?
2.    can the company deliver it?
3.    can it do better than the competition? 
I don't know The Masters' positioning, yet would hazard a guess that it's built around a handful of words.
These would probably include: Exclusivity. Luxury.
In fact, that's probably all they'd need.
Here are a couple of practical examples of how they effectively balance the long and short of it (Les Binet & Peter Field).
long-term brand building (mass awareness)
Their distinctive brand assets (read anything by Jenni Romaniuk) are distinct, support their positioning, and are applied rigorously. The lack of on-course sponsor branding thus allows for an extensive application of two such brand codes: The Masters green and yellow.
short-term activations (targeted sales)
The Masters generates approx. $69m in on-site merchandise sales every year. This number is only possible because the tournament has done such an effective job at building its brand over the long term.
I know brands/rights holders might be thinking: 'well, we're not The Masters, so none of this is relevant.'
That's not the point: it's not the brand that's important, it's the incredibly clear understanding of marketing fundamentals has resulted in The Masters making clear strategic choices resulting in its distinct and effective brand.
To quote strategy guru Roger Martin:
Strategy is a set of interrelated and powerful choices that positions the organization to win.
It's safe to say that, as a result of making the right strategic choices, The Masters is winning.
---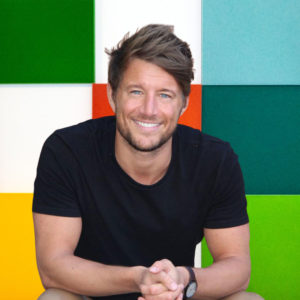 I'm a sport-obsessed film lover with a passion for evidence-based marketing. I'm proud to own an agency that's become one of the most trusted in world sport.
My most memorable sporting moment is … 
Spectating: Liverpool beating AC Milan in 2005 to win the UEFA Champions League.
I am happiest when … 
With family.
The sports person that best represents me is … 
Frederik Fetterlein (Danish Tennis player... worth a google).
The three things at the top of my bucket list are …
1. Complete an Ironman for the charity MIND
2. Learn a (new) language
3. Work with the NFL
A quote I try to live my life by is … 
"Life is as good as the memories you make."
All author posts